What's on
There are no events to display.
Tuesday 26 June 2018
RCM Junior Department: summer successes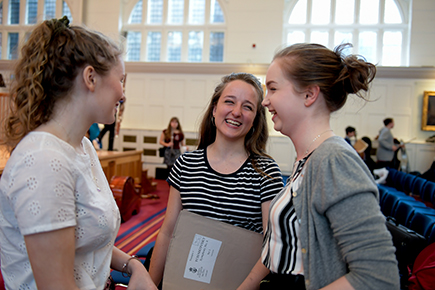 The Royal College of Music Junior Department has enjoyed a string of successes in recent competitions for its talented young students.
This year's BBC Young Musician competition saw four RCMJD students become Category Finalists: flautist Marie Sato, bassoonist Francis Bushell, percussionist Toril Azzalini-Machecler and double bassist Will Duerden. Marie and Francis will perform as soloists in RCMJD's Young Artists Concert at Wigmore Hall on Sunday 1 July, alongside final year vocal student Eyra Norman who was previously crowned Young Musician of the Year 2017 (Vocal Category) by Rotary in Great Britain and Ireland. The same concert will feature a performance from the winners of the 2018 RCMJD Chamber Music Competition: Piano Trio comprising Lasha Utalishvili (piano), Amber Emson (violin) and Willard Carter (cello).
Violinist Amber Emson was awarded 2nd Prize (no 1st Prize) in the Junior Category of the X. International Competition for Violin and Viola 'Szymon Goldberg' Meissen, Germany. Musicians from all over the world entered the competition, presenting a virtuosic programme including works by Paganini, Bach, Mozart, Brahms, Wieniawski, Ysaÿe and Prokofiev as well as local contemporary composers. Six finalists were invited to present one showpiece in the Prize Winners' Concert on 13 May in Meissen's Town Hall. Amber chose Wieniawski's Polonaise de Concert in D major. As the only prize winner in the Junior Category, she received a monetary prize, a scholarship for a masterclass in Austria and a concert in Dresden during the 2018/19 season.
Amber commented: 'I'm absolutely thrilled about this success; it's amazing to see the hard work pay off and encouraging in looking forward to future challenges.'
Pianist Arthur Di Francesco won First Prize at the North London Festival in the Recital Class after performing two movements from Bach's Partita in C minor, Adriana by Miguel Astor and the fourth movement of Chopin's Sonata No. 3. Arthur was subsequently invited to perform at the President's Concert. Arthur said: 'Playing at the North London Festival again this year was a fantastic opportunity to play in a beautiful venue with a lovely acoustic. The festival was such a memorable experience and a crucial one in my musical development.'
Speaking of RCMJD students' many successes, Miranda Francis, Head of Junior Programmes, said: 'I am extremely proud of all the young musicians who study with us in the Royal College of Music Junior Department and am especially delighted to see so many of them enjoying success in significant international competitions. They are truly proving themselves to be the stars of the future!'
Find out more about the RCM Junior Department's Young Artists Concert here.