What's on
There are no events to display.
Monday 31 October 2016
RCM presents first UK staged production of Rameau opera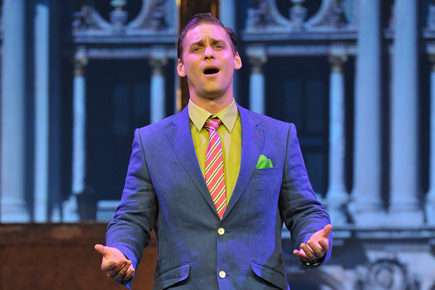 The Royal College of Music is delighted to announce the United Kingdom's first staged production of Rameau's rarely performed French baroque opera, Les Fêtes d'Hébé.
Talented students from the RCM Baroque Orchestra and RCM International Opera School join singers from the Académie de l'Opéra national de Paris and the Centre de musique baroque de Versailles in two performances at the RCM's Britten Theatre on 5 and 6 April 2017.
Acclaimed choreographer Thomas Lebrun directs the new staging while renowned Rameau interpreter and scholar Jonathan Williams conducts the international cohort of musicians.
The London performances of Rameau's opera will be the culmination of a new international collaboration with the two French institutions and follow performances in March 2017 at the Amphithéâtre Bastille of l'Opéra de Paris.
Professor Colin Lawson CBE, Director of the RCM, says: 'This exciting collaboration reinforces the Royal College of Music's vital creative connections to Europe and offers RCM students an important opportunity for cultural exchange. Providing unrivalled performance opportunities such as these is central to the RCM's world leading training and ensures our students are fully prepared for careers as successful international musicians.'
Premiered in 1739, Les Fêtes d'Hébé was an immediate success with Parisian audiences, becoming one of Rameau's most popular works during the composer's lifetime.
Stephen Johns, Artistic Director of the RCM, says: 'I am thrilled that the Royal College of Music is collaborating with the Académie de l'Opéra national de Paris and the Centre de musique baroque de Versailles through this unique partnership. The chance to revive Rameau's masterpiece is hugely rewarding for both performers and audiences alike. That RCM students are also being given the immensely beneficial experience to rehearse and perform in Paris with these two iconic organisations, makes the project all the more exciting for them.'
The RCM was recently recognised by the Higher Education Funding Council for England (HECFE) for 'being able to sustain one of the richest and most intensive programmes of public performance of any conservatoire in the world'. HEFCE also commented that the RCM 'excellent interaction with both the music scene in London and the highest level of international musical life was seen to provide the foundation for the success of graduates' and that alumni are 'highly distinguished and undoubtedly recognised by comparable institutions, employers and external funders as world-leading'.
Tickets for Les Fêtes d'Hébé at the Royal College of Music are available from the RCM Box Office. To book visit www.rcm.ac.uk/rameau, call on 020 7591 4314, or visit the RCM in person on Prince Consort Road, SW7.