What's on
There are no events to display.
Thursday 6 February 2014
RAG Week 2014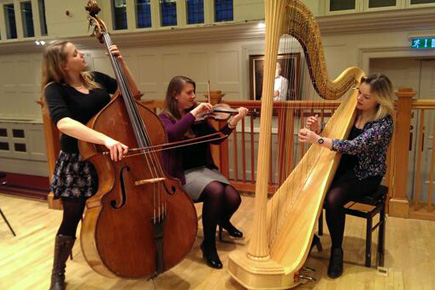 The week of 10-14 February 2014 was RCM RAG Week 2013 - a full week of events organised by the RCM Students' Association in which the students raise money for a selected charity.

This year the charity selected by students was Great Ormond Street Hospital (GOSH) - one of the world's leading children's hospitals. Since its formation in 1852, the hospital has been dedicated to children's healthcare and to finding new and better ways to treat childhood illnesses. Money raised for the GOSH Charity helps the hospital save more lives, develop new treatments, build state of the art facilities and support patients and their families.
Just some of the events going on throughout RAG week included a Charity Auction on Tuesday, a Fair Trade Afternoon Tea on Thursday, and the RCM Staff Grade 1 Challenge on Friday. For this challenge, RCM staff members who have been taught a new instrument by students and colleagues since the autumn term took their Grade 1 exam in front of an audience.
The week ended with a concert from the RCM Students' Association RAG Orchestra, when they presented a delightful programme of spring-inspired music by composers Macmillan, Copland and Schumann.
We are delighted to report that this great week of charitable work resulted in RCM students raising a grand total of £5,665.26 for Great Ormond Street Hospital. Congratulations to all involved.

Pictured Three of the RAG Week Grade 1 Challenge participants: Gabbi Freemantle (double bass), Jess Pearce (violin) and Bex Gibson (harp).