RCM visits the Far East
Wednesday 13 January 2016
RCM Director Professor Colin Lawson, Head of Keyboard Professor Vanessa Latarche and Deputy Director Kevin Porter have travelled to the Far East to reaffirm links with the Nanyang Academy of Fine Arts and University of Macau.
Their trip included the signing of a second five-year agreement to offer the RCM-NAFA degree programme. Presented in association with the Nanyang Academy of Fine Arts (NAFA) in Singapore, this ground-breaking undergraduate degree programme charts a new pathway for world-class, practice-based arts education at tertiary level.
The Signing Ceremony took place at NAFA on 12 January 2016, where Prof Colin Lawson, Kevin Porter and Prof Vanessa Latarche were welcomed by NAFA President Mr Chia Mia Chiang, Dean Mr Lim Yau, and Vice Deans Dr Eleanor Tan and Dr Ernest Lim.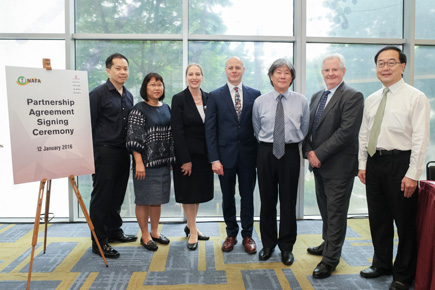 Photo L-R: Dr Ernest Lim, Dr Eleanor Tan, Prof Vanessa Latarche, Mr Kevin Porter, Mr Lim Yau, Prof Colin Lawson, Mr Chia Mia Chiang
Designed as a Bachelor of Music (Honours) degree programme that follows on from NAFA's three-year Music Diploma, the RCM-NAFA degree programme was launched in August 2011 with its first intake of 20 students. There have since been 67 graduates from the programme, with 28% achieving First Class Honours.
All students on the programme visit London for an International Placement, where they study and perform alongside London-based students and have the chance to immerse themselves in the city's exceptional cultural life. This March they will be performing three rush-hour chamber concerts as part of their visit.
As part of their trip, Professors Lawson and Latarche have also visited the University of Macau, where they led an afternoon masterclass and joined Principal Clarinet of the Macau Symphony Orchestra Michael Kirby for an evening performance at Prince Consort High Table.
Also attended by Kevin Porter, this special Prince Consort High Table event followed an invitation from Professor Kevin Thompson, Master of the Moon Chun Memorial College, and marks the ongoing relationship between the RCM and this new College at the University of Macau. Others in attendance included the British Consul General to Macau, who is herself a former student of the RCM Junior Department.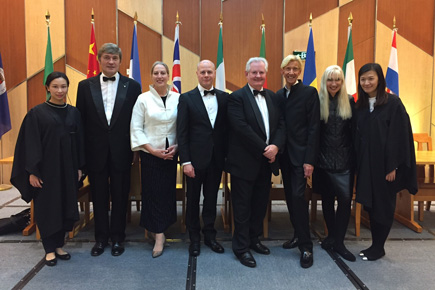 Prince Consort High Table event at the University of Macau