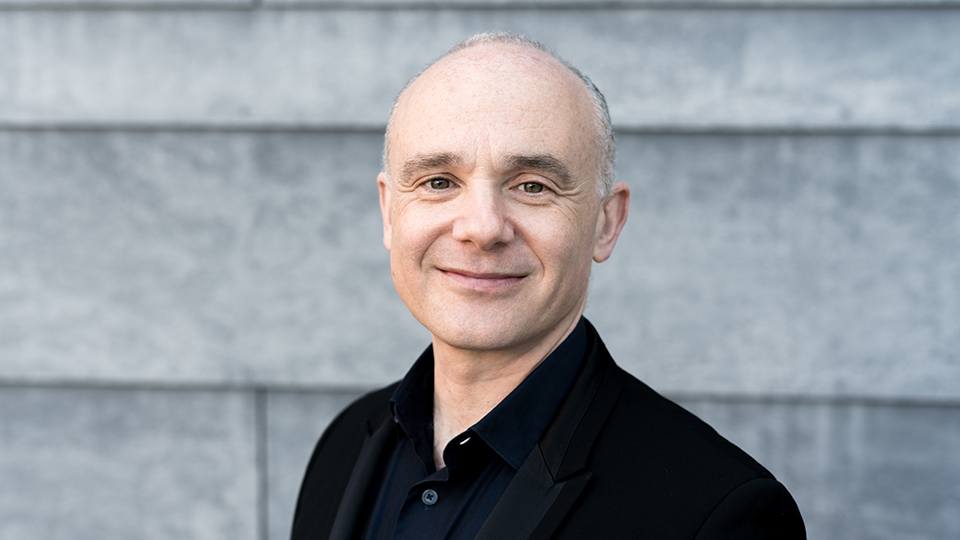 Pianist Andrew Zolinsky is one of the most distinctive musical voices of his generation. His unique style of programming and his individual interpretations have secured performances at many prestigious venues and festivals. His work with living composers brings a vivid freshness, energy and passion to his interpretations of music from previous eras.
Though a noted performer of contemporary repertoire, Andrew has performed many of the standard concertos, Beethoven, Chopin, Greig, Rachmaninoff, Gershwin and Barber with major orchestras, including the BBC Symphony Orchestra, BBC Scottish Symphony Orchestra, BBC National Orchestra of Wales, London Sinfonietta, Philharmonia, Royal Philharmonic Orchestra, London Concert Orchestra and the Orchestre National de Lorraine, and has worked under the batons of such distinguished conductors as Stefan Asbury, Miguel Harth-Bedoya, Martyn Brabbins, Nicholas Cleobury, Thierry Fischer, Charles Hazlewood, Owain Arwel Hughes, Grant Llewellyn, Diego Masson, Andre De Ridder, David Robertson, Pascal Rophe and Baldur Bronnimann. In addition to concerts in the UK, he has also performed in the Czech Republic, France, Germany, Holland, Ireland, Italy, Japan, New York, Portugal, San Francisco and Spain.
In the contemporary field, he is closely associated with the music of Unsuk Chin, James Clarke, Laurence Crane, Ivan Fedele, Michael Finnissy, David Lang, Valentin Silvestrov.
Andrew has given world and regional premieres of many of David Lang's works, including, the world premiere in New York of the complete set of Memory pieces, and the Piano Concerto, Fur, commissioned by the BBC, at the Vale of Glamorgan Festival with the BBC National Orchestra of Wales conducted by Grant Llewellyn.
Andrew is also very closely associated with the music of Unsuk Chin. He has performed her complete Etudes for solo piano on many occasions, including the French (Festival Musica in Strasbourg), London (Wigmore hall) and Italian (Venice Biennale) premieres. Andrew also gave the London première of her Piano Concerto with the BBC Symphony Orchestra conducted by Miguel Harth-Bedoya. As part of the BBC's 'Total immersion' series in 2011, Andrew gave the UK premiere of the Double Concerto with percussionist Owen Gunnell and the London Sinfonietta conducted by Stefan Asbury at the Barbican Centre. At Unsuk Chin's request, he was invited to perform her Piano Concerto and a recital that included her Six Etudes alongside music by Debussy, Chopin and Ligeti at the prestigious French festival, Acanthes.
Andrew has performed at the Royal Festival Hall in London (Gerard Grisey's Vortex temporum with members of the Philharmonia orchestra conducted by Pascal Rophe), USA, the Venice Biennale and the Huddersfield Contemporary Music Festival. In November 2013, Andrew made his debut in the International Piano series at London's Southbank Centre; this recital also formed part of the Southbank centre's fascinating series, The Rest is Noise. Earlier that month, he made his debut at the Palau de la musica in Valencia with a programme of music by Beethoven, Liszt and Schumann.
In 2014, Andrew played in the prestigious Piano Rarities Festival in Husum, Germany, recitals in New York at the Brooklyn Academy of Music, and in November 2014 at the Royal Festival Hall, London, Andrew gave the UK premiere of 'Gesualdo dub/raum mit gelöschter figur' by Marko Nikodijevic, with the Philharmonia orchestra conducted by Baldur Brönnimann. This concert was part of the Philharmonia's Music of Today series.
More recently, Andrew has performed in Lithuania, Spain and Taiwan.
As passionate about teaching as he is about performing, Andrew is professor of piano and is also in charge of a Masters level specialism in contemporary piano music.
Faculties / departments: Keyboard, Junior Department
---
Contact
For enquires please contact:
Andrew Zolinsky
Piano professor, Contemporary Piano Co-ordinator, Piano teacher