ARCM, DipRCM, FTCL.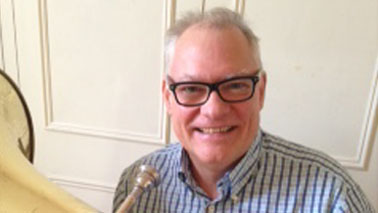 Kevin is the Principal Tuba of the Royal Philharmonic Orchestra. Before joining the RPO, Kevin enjoyed a successful freelance career. His work has taken him all over the World, including tours of North and South America, South Africa, Russia, the Far East and Europe. He also works regularly in the session world and has played on many sound tracks for pop groups, television and films.
Kevin was born in Treorchy South Wales, and began his musical career at the age of six. He followed in his Father's footsteps and became principal euphonium of the Parc and Dare Band at the age of twelve. In 1977, whilst still at school, he became an Associate of the Royal College of Music. In 1978 he gained a Foundation Scholarship to study at the Royal College of Music. In the same year Kevin reached the BBC Young Musician of the Year Brass Final. In the first year at the Royal College, Kevin became a Fellow of Trinity College London and a Silver Medallist in the Shell LSO Competition. Whilst at the Royal College, he started working professionally as a successful freelance tuba player, regularly performing with the major London orchestras and opera and ballet companies. He released a solo album, Virtuoso Tuba, in 1995.
Kevin currently teaches at The Royal College of Music Junior Department and the Royal Air Force Music School at Northholt.
Kevin is married with two daughters and lives in Chiswick, West London.
Faculties / departments: Junior Department
---
Contact
For enquires please contact:
Junior Department Enquiries