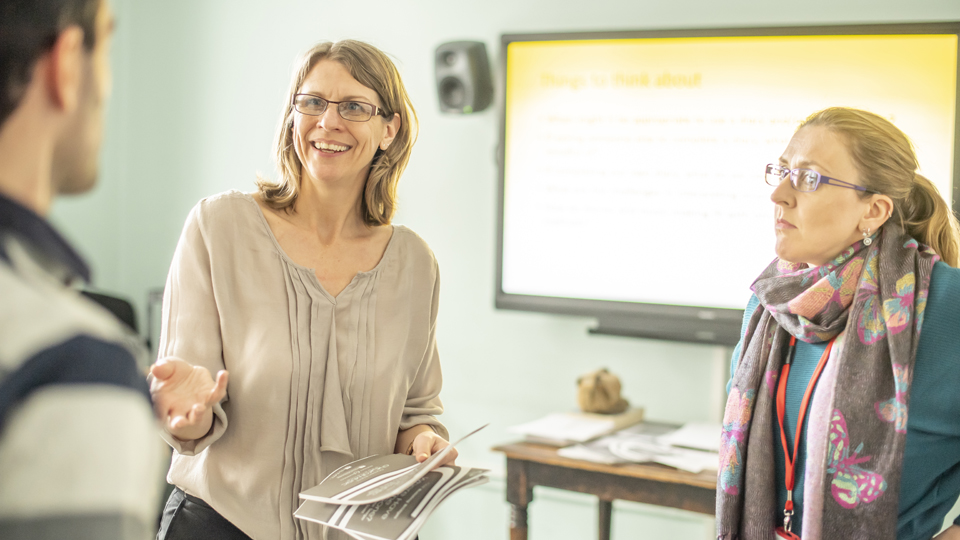 Jennie Henley is Area Leader for Music Education at the Royal College of Music, London. Her role involves developing music education provision for undergraduate and postgraduate students, and steering music education research.
Her research interests cross over music education and community music, with a focus on the ways that teachers and facilitators work inclusively in different contexts. Her first research strand focuses on music in prisons. She has conducted a sequence of studies looking at the social and emotional development of incarcerated people who participate in specific music programmes. These studies explore the musical learning processes that lead to reported positive social and emotional development, and most recently the pedagogy that underpins a music programme that engages diverse people in social music making.
Her second research strand is centred on the musical starting points of primary generalist student teachers who are beginning to teach classroom music. As well as contributing to understandings of the ways that younger adults engage in music making, this research aims to provide insight into the ways that generalist teachers can draw on their musicianship in the classroom to model music making at an everyday level.
She has worked on a number of funded research and evaluation projects including a large DCSF Music Partnership Project, a national KS2 CPD programme, a Cormenius funded European Music Portfolio project, and a DfE funded Primary Music ITE project. Recently her research has led to a Good Vibrations Youth Music funded series of CPD workshops on Effective Facilitation, she has been awarded an AHRC Research Network grant to interrogate the notions of excellence and inclusion in music programmes that seek to achieve social as well as musical outcomes, and she continues to provide consultancy for curriculum design and development at a national and international level.
Selected publications
Henley J (forthcoming), Music, emotion and learning, in P Gouk, J Kennaway, J Prins & W Thomählen (eds.), The Routledge Companion to Music, Mind and Wellbeing: Historical and Scientific Perspectives, Routledge [ISBN 9781138057760].
Cohen M & Henley J (2017), Music-making behind bars: the many dimensions of community music in prisons, in B Bartlet & L Higgins (eds.), The Oxford Handbook of Community Music, (153-176), Oxford University Press [ISBN 9780190219505].
Henley J (2017), The musical lives of self-confessed non-musicians, in R. Mantie & G Dylan-Smith (eds.), The Oxford Handbook of Music Making and Leisure (pp. 203-222), Oxford University Press [ISBN 9780190244705].
Henley J (2016), How musical are generalist primary student teachers? Music Education Research, 19 (4), 470-484 [DOI].
Henley J (2015), Music: naturally inclusive, potentially exclusive? In J M Deppeler, T Loreman, R A L Smith & L Florian (eds.) Inclusive Pedagogy Across the Curriculum (International Perspectives on Inclusive Education vol. 7) (pp. 161-186), Emerald Publishing [DOI].
Henley J (2015), Prisons and primary schools: using CHAT to analyse the relationship between developing identity, developing musicianship and transformative processes, British Journal of Music Education, 32(2), 123-141 [DOI].
Henley J (2014), Musical learning and desistance from crime: the case of a "Good Vibrations" Javanese gamelan project with young offenders, Music Education Research, 17(1), 103-120 [DOI].
Henley J, Caulfield L, Wilson D & Wilkinson D (2012), Good Vibrations: positive change through social music-making, Music Education Research, 14(4), 499-520 [DOI].
Faculties / departments: Research
Research
Research areas
Research projects
MUSOC
Research students
Latest Publications
We could not find any research listings from this staff member.
Contact
For enquires please contact:
Dr Jennie Henley
Area Leader in Music Education