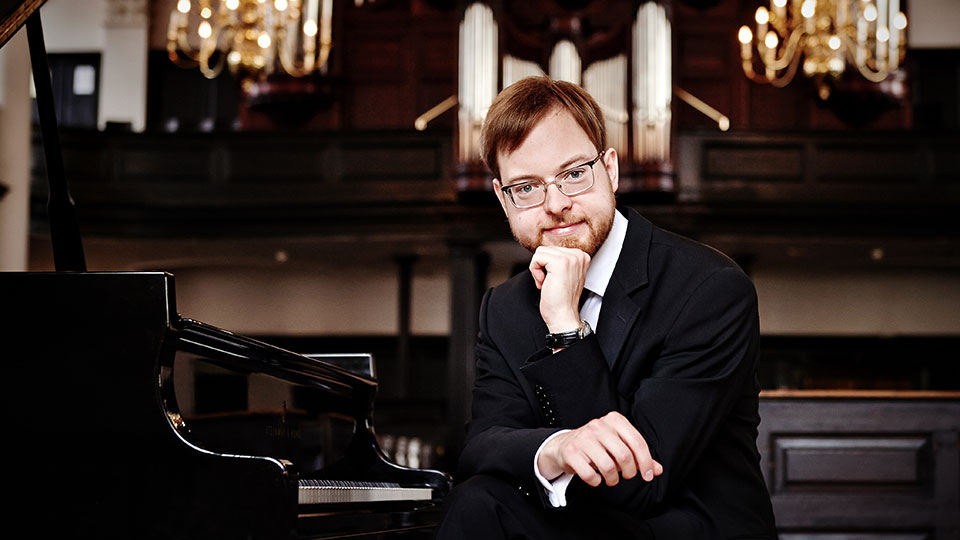 Pianist Maksim Stsura won First Prizes at the 7th Estonian Piano Competition (2008), the Steinway-Klavierspiel-Wettbewerb in Germany (2004), the International Frederic Chopin Piano Competition in Estonia (2000) and the Intercollegiate Beethoven Piano Competition (2013). He has appeared as soloist with orchestras such as the Amadeus Chamber Orchestra, Estonian National Symphony Orchestra and the Saint Petersburg State Academic Symphony Orchestra. As a chamber musician, Maksim is in great demand, collaborating with Jakobstad Sinfonietta (Finland), Mediterranean Chamber Brass (Spain), Florin Ensemble (UK) and Wiener Kammersymphonie (Austria), among many others.
In 2014 he started his Doctoral course at the Royal College of Music, working towards his DMus. Maksim's research has been generously supported by a Neville Wathen Award, Leverhulme Postgraduate Studentship and Mr Nigel Woolner MBE. His research titled 'Piano Transcription of a 21st-century Orchestral Score – Freedoms and Limitations' focuses on works by Mark-Anthony Turnage and James Dillon.
Since 2012 Maksim has been the pianist in the award-winning Foyle-Stsura Duo, having performed extensively in the UK and internationally in venues including the Concertgebouw in Amsterdam, Bridgewater Hall in Manchester and the Wigmore Hall. He has played live on BBC Radio 3, NPO Radio 4 and Estonian Klassikaraadio and recorded for Delphian Records and Challenge Classics.
'determined cohesion'
The Gramophone, February 2019
'…refreshingly unindulgent but full of sparkling detail…'
The Strad, December 2016
'…unwaveringly engaging performance…'
Seen and Heard International, July 2016
'Maksim Stsura impressed a large crowd at London's St Martin-in-the-Fields with formidable performances of two Romantic piano favourites…'

Malcolm Miller, November 2014
'The young award-winning Estonian pianist completely captivated the audience with his vivacity and fine style… His phrasing was immaculate and his overall performance was packed with passion'

John Manning, Herts Advertiser, October 2014
Find out more about Maksim's duo ensemble Visit website
Faculties / departments: Research
Research
Research areas
Research supervisors
Latest Publications
We could not find any research listings from this staff member.
Contact
For enquires please contact:
Maksim Stsura
Early Career Researcher