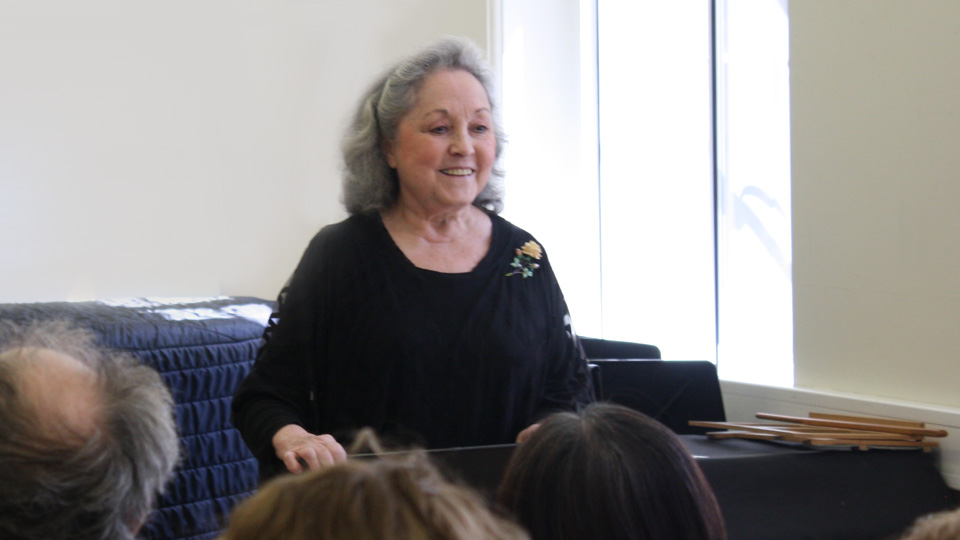 Marisa Robles studied harp as a child with Luisa Menarguez, made her debut at age nine, and went on to graduate from the Madrid Conservatory in 1953 at the age of 16. The next year, she made her concert debut in Madrid, performing with Jean-Pierre Rampal in Mozart's Concerto for flute and harp, K. 299. The work would become her signature piece; she recorded it four times with James Galway and has performed it in concert more than 1,000 times over the course of her career.
Her time teaching at the Madrid Conservatory was brief: after joining the staff in 1958, she married and moved to England in 1959, eventually taking British citizenship. In England, Robles became known for television appearances, whereby she introduced harp music to new audiences. Between 1971 and 1993 she spent much time touring and performing around the world, including a 1988 trip to China.
She has worked with such conductors as Zubin Mehta, Kurt Masur, Rafael Frühbeck de Burgos, Mstislav Rostropovich, and Yehudi Menuhin. She also frequently performed chamber music, especially with her second husband, flutist Christopher Hyde-Smith. Her amiable stage personality and her warm, clear playing endeared her not only to audiences, both live and television, but also to composers. Among those who dedicated harp concertos to her were Manuel Moreno-Buendia, who wrote a concerto for her in 1958 and a second one for harp, marimba, and strings for her in 1994; Joaquín Rodrigo (Sones en la Giralda, 1963); Malcolm Williamson; Jesús Guridi; and John Metcalf. She has also been the dedicatee of chamber works by William Mathias, Stephen Dodgson, Alun Hoddinott, and William Alwyn.
Robles was artistic director for the first two Cardiff World Harp Festivals in 1991 and 1994. Around the same time, she appeared in the Emmy-winning television series Concerto! with Galway and Michael Tilson Thomas, again performing the Mozart. In addition to her recordings of Mozart, she has recorded the music of Debussy and Rodrigo, an album of popular harp solos, and music by Edwin Robertson based on C.S. Lewis' Chronicles of Narnia with both Hyde-Smith and her own harp ensemble.
Faculties / departments: Strings
---
Contact
For enquiries please contact:
Strings Enquiries