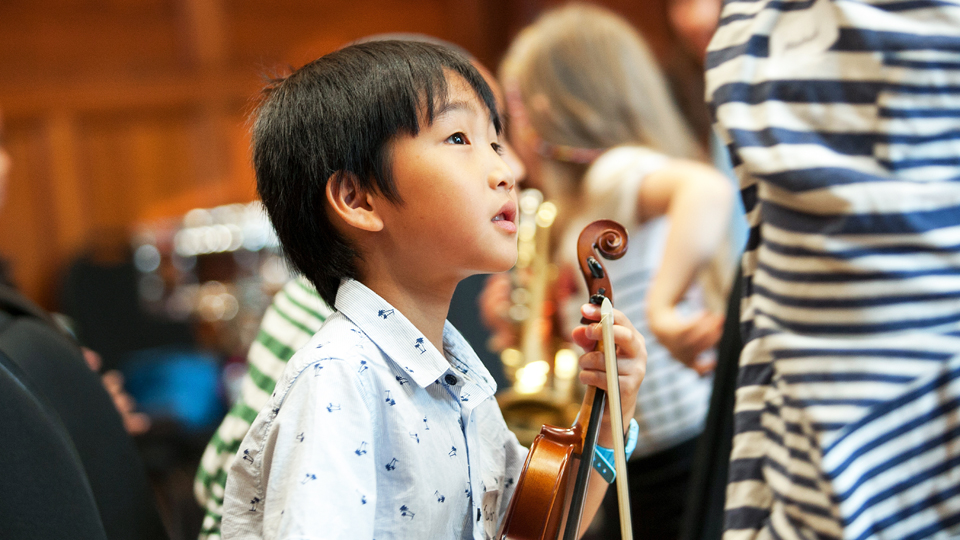 In this section you will find creative resources grouped by age, introducing a variety of musical topics and themes.
Age 0-5
Listening Journeys
What are they?
The Listening Journeys are short musical guided meditations focussing on listening and attention.
Children are encouraged to actively listen to the music, to your body and to your emotions, and draw them all together with visualisations and movement.
Why?
Learning to listen intently and with focus is important for well-being and concentration. Each journey is designed to be calming, empowering, and help build a heightened awareness of self, and belonging.
By guiding the children through visualisations, it can help the self-regulation of emotions, appreciation of the natural world, and awareness of their bodies and senses.
Learning to relax and to let go is not always easy – included in these Listening Journeys are moments of muscle contraction followed by a release to help the children understand how to relax and to be in control of their own bodies.
Create a quiet space, with no distractions, and encourage no talking/other sounds until the journey is over. The focus is on listening. The atmosphere, listening and attention will be improved if there is no external sound or activity to distract.
Explore a Story: Mr Big
Join Katie Teage and band for this jazzy, sing-a-long musical resource for Key Stage 1, with PSHE focus and activities.
Accompanying resources
Mr Big activity pack
Explore a story: Sparky's Magic Piano
RCM Sparks Activity Pack - Sparky's Magic Piano
Accompanying resources
Magic Piano - Sparky Score
Age 6-11
Explore an Instrument
These videos are designed to introduce you to different instruments, what they look like, how they work and how they sound. Which is your favourite?
If you're interested in learning an instrument, why not contact your local Music Hub?
You also may wish to find out more about the RCM's Online Teaching Service.
Explore Music for Well-Being
RCM Sparks Activity Pack - Count on Me
Gamelan and Shadow Puppet Theatre
Gamelan and Shadow Puppet Theatre
Discover Treasures from the RCM Museum
The activity packs below contain arts, crafts and music tasks and each are based on a creative idea inspired by an object or instrument from the RCM Museum. You can complete these at home and then visit us to explore the items in real life!
Following a £3.6million investment from Heritage Lottery Fund, the Museum has undergone a complete redevelopment and opened to the public in October 2021. You can book a slot to visit our Museum here.
RCM Sparks Activity Pack - Discover Ethel Smyth
RCM Sparks Activity Pack - Discover Ancient Greece
RCM Sparks Activity Pack - Discover the Parisienne Pochettes
RCM Sparks Activity Pack - Discover animal instruments
RCM Sparks Activity Pack 1 - Discover the Greatest Exhibition
RCM Sparks Activity Pack 2 - Discover the Greatest Exhibition
RCM Sparks Activity Pack - Turning over a new leaf
Explore Elizabethan Music
Music and theatre blossomed under Queen Elizabeth I's reign. This pack explores Elizabethan instruments in the RCM Museum's collection and how William Shakespeare used music in his plays and poems.
RCM Sparks Activity Pack - Explore Elizabethan music
RCM Sparks Spotlights
RCM Sparks Spotlights are student insights into well-loved pieces of music using footage from the RCM archive. Written and presented by RCM students these video-shorts are an accessible introduction to classical music for children and families.

Be enchanted by Tchaikovsky's Swan Lake orchestral suite, take a journey though the Czech Republic with Smetana's Ma Vlast no.2 'Vltava' and explore the haunting sounds of the wonderful D'un Soir Triste by Lili Boulanger.
Watch Freddy and Sadie on Tchaikovsky's Swan Lake
Watch Joy on Smetana's Ma Vlast
Explore Latin Jazz and Latin Music