GTCL, LTCL, CertEd, HonRCM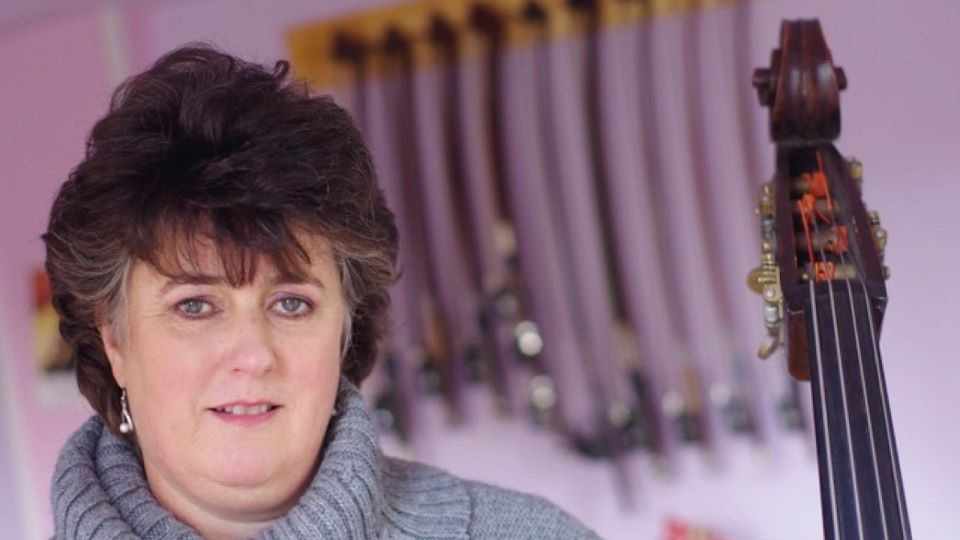 Caroline Emery's contribution to the double bass world is unique. Having graduated from Conservatoire and subsequently gained a teaching qualification, she became the leading exponent of the Yorke Mini-Bass Project from its inception in 1984. Caroline focuses at present in training talented advanced students and young professionals, whilst also continuing to teach younger students.
She is a professor of Double Bass at the Royal College of Music in London where for over 20 years she has had the largest class. She also teaches at the Yehudi Menuhin School and Eton College as well as teaching privately and giving masterclasses internationally. Her publications are two Bass is Best Books published by Yorke Edition and Bow Works, Progressive Technique by Almusik in Sweden. These books have had enormous success and are used world wide. In 2022 she was able to commence her postion of visiting professor at the Royal Conservatoire in The Hague, Netherlands. Previously she had been a visiting professor at the Royal Danish Academy and at the Royal Northern College of Music.
Caroline is no stranger at the International Society of Bassists's Conventions. In June 2019 she was awarded the coveted award for Teaching. She also holds an award for the Young Bassist's Ambassador in 1997.
Her students can be found in many orchestras, in Britain and abroad. The Philharmonia, LPO, LSO, BBC Concert, Liverpool Philharmonic, The Concertebauw, Gothenburg Symphony Orchestra, Malmo Symphony, Norlands Operan, Munich, Mahler Chamber Orchestra, National Orchestra of Spain, Cologne, Kansas city, to name a few, as well as a large number of other freelance orchestras and shows and ensembles. Tim Gibbs is now principal Bass at the Philharmonia and more recently Rodrigo Moro Martin has been appointed Principal bass of the National Orchestra of Spain and the Mahler Chamber Orchestra. In 2020 straight from College Philip Nelson has accepted the post of section Leader of the Royal Northern Sinfonia. Since late in 2021 Rodrigo has also been playing Principal Bass in the London Symphony Orchestra. He was the first international student at the Yehudi Menuhin School.
Caroline has a special interest in training bassists through the use of chamber music. She is responsible for many new works, 5 bass Concertos, 52 Quartets, 5 Quintets, 5 Octets, one dectet, one Do-dectet 5 trios, one duo, and two works for bass and saxophone and two works for bass and harp.
She works closely with the composers Jan Alm, Gareth Wood and Edwin Roxborugh.
Recent masterclasses and workshops have taken Caroline to Singapore, Washington, Canada, Germany, Holland, Sweden, Denmark and Spain. Links with Scandinavia are particularly strong. She is Director of Bass Club and has run International Summer Courses for over 30 years.
Faculties / departments: Strings, Junior Department
---
Contact
For enquiries please contact:
Strings Enquiries