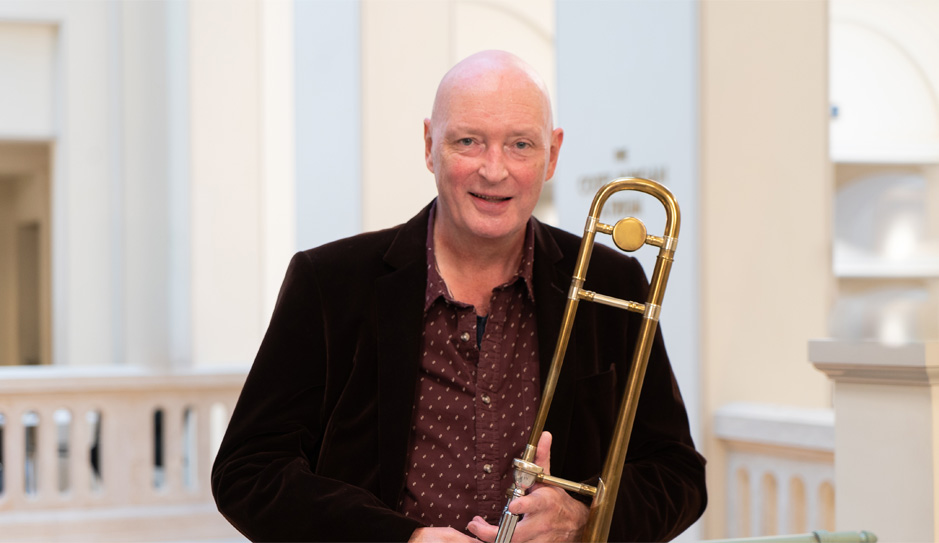 Richard studied at RMSM at Kneller Hall, whilst in the Band of the Irish Guards, where he won both the Cousins and Cassels prizes for Best Instrumentalist and Best All Round Musician.
He has worked freelance since 1984 and has been in demand for all styles of music; classical, jazz, pop and TV and Films. He has played with The London Sinfonietta, LSO, LPO, ROH Covent Garden and also BBCO. He has been a member of London Brass since 1991, performing concerts, touring and recording.
Throughout his career Richard's musical versatility has led him to perform, tour and record with a huge variety of Artists, Bands and Orchestras.
On the Pop front Richard has performed with Working Week, Sting; Jamiroquai; Level 42; Robbie Williams; Amy Winehouse; Peter Gabriel; Stevie Wonder; Kim Appleby; Joni Mitchell; Sam Smith; The Beach Boys and The Cure.
In the area of Jazz and Big Band he has played with Frank Sinatra, Quincy Jones, Carla Bley, George Russell, Natalie Cole, Johnny Mathis and Dame Shirley Bassey.
Richard has recorded literally hundreds of films, including Harry Potter; Fantastic Beasts; Captain Marvel/Avengers; Guardians of the Galaxy; The Dark Knight trilogy; The Hunger Games, several James Bond movies including Skyfall and Tomorrow Never Dies; Stardust; Mrs Henderson Presents; Moulin Rouge and the recent Matilda movie.
In the West End Richard has performed in many Musicals including Oliver!; Chitty Chitty Bang Bang; Saturday Night Fever; Evita; Legally Blonde; Sinatra; Lord of the Rings and he has played in Matilda The Musical since it opened in the Cambridge Theatre.
Faculties / departments: Brass
---
Contact
For enquiries please contact:
Richard Edwards
Jazz and Lead Trombone professor