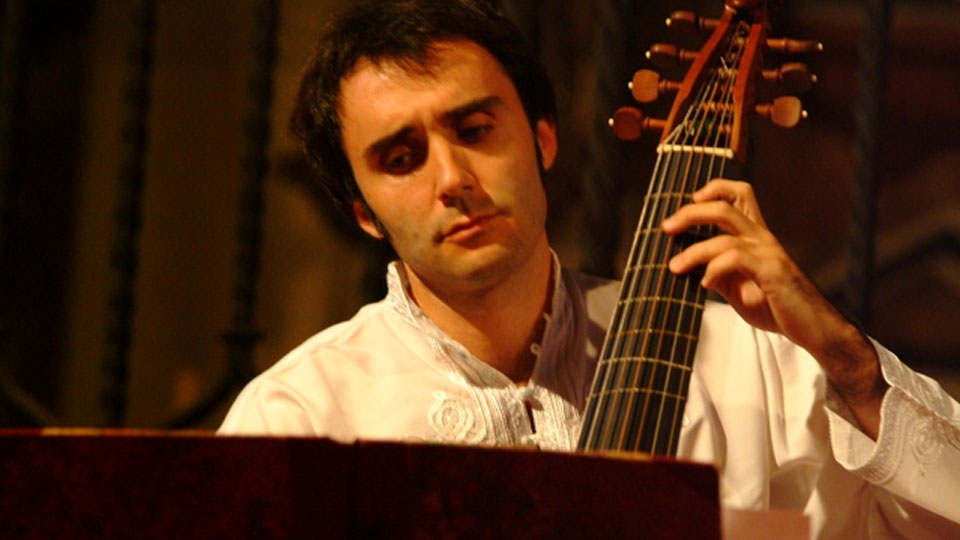 Compared by the critics to Jasha Heifetz ("Diapason"), Vittorio Ghielmi was born in Milan, Italy.
While he was still very young he attracted notice for the intensity and versatility of his musical interpretations, as well as for his new approach to the viola da gamba and to the sound of the early music repertoire. His studies in the field of the old musical traditions surviving in forgotten parts of the world brought new perspectives to the interpretation of European "early music". He was the winner of the "Concorso Internazionale Romano Romanini per strumenti ad arco" (Brescia 1995) and the Erwin Bodky Award (Cambridge, Massachusetts USA 1997).
He is one of the few gamba players who is regularly invited to play as a solo performer with orchestras.
As a viola da gamba soloist or as a conductor he has appeared with orchestras such as the Los Angeles Philharmonic Orchestra (playing a Graun Concerto in the Hollywood Bowl), the London Philharmonia, the Vienna Philharmonic, Il Giardino Armonico, the Freiburg Baroque Orchestra etc. He also performs in duo with his brother Lorenzo Ghielmi or with Luca Pianca, and has played in the most important European venues. He has been invited to play as the soloist in the world première of many new composition (Kevin Volans, Teatro Regio di Torino; Nadir Vassena, Berliner Philharmoniker Hall). In 2008 Uri Caine composed a "Concerto for viola da gamba and orchestra" for him, first performed in the Amsterdam Concertgebouw.
His ensemble Il Suonar Parlante, appearing as a Viols Quartet or an Orchestra, is devoted to a new investigation of the early music repertoire, and has also performed with important jazz players such as Kenny Wheeler, Uri Caine, Jim Black, Don Byron, Markus Stockhausen, Nguyen Lê, pop singers like Vinicio Capossela, flamenco stars such as Carmen Linares etc. Several jazzmen and composers have written new music for this ensemble. It also collaborates with traditional Asian musicians like the Afghan virtuosi of the "Ensemble Kaboul" (Khaled Arman). In 2007 he conceived and conducted a show, based on Buxtehude's "Membra Jesu Nostri", with the American film maker Marc Reshovsky (Hollywood) and the Swedish choir "Rilke Ensemble" (G.Eriksson).
Vittorio Ghielmi is a visiting professor at the RCM, a professor at the Conservatorio Luca Marenzio (Brescia), and has given several master-classes in Academies and Universities (Mozarteum Salzburg etc.). In the "Politecnico della cultura, delle arti e delle lingue" Milan, he has organized cycles of studies and concerts on early music instrumental techniques and their survival in "ethnic" musical traditions.
He has published studies on music and previously unpublished scores (Fuzeau, Minkoff, Ut Orpheus), and a complete edition of Johan Gottlieb Graun's Viola da Gamba Concertos. He directs the scientific musical research of "Libroforte-Fine Music editions".
He plays a gamba made by Michel Colichon, Paris 1688.
Faculties / departments: Historical Performance
---
Contact
For enquiries please contact:
Historical Performance Enquiries