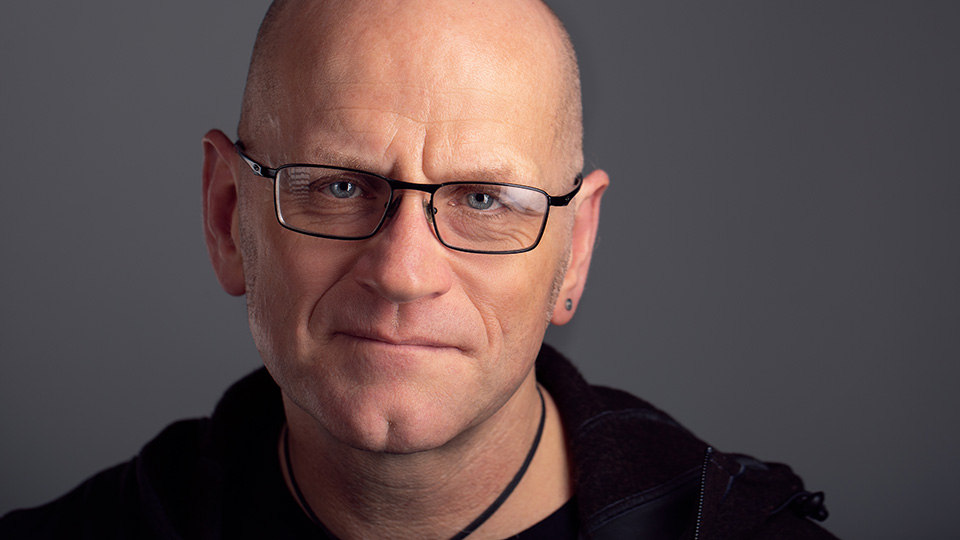 Dave Camlin's musical practice spans performance, composition, teaching, socially-engaged music practice and research. A singer/song-writer by trade, his work is motivated by the idea of music making as a creative resource for fostering kinship and living more sustainably, as a potent form of civic imagination.
His research explores the relationship between aesthetic and participatory traditions of music making, and suggests that music is about the 'performance' of human relationships as much as it is the performance of musical 'works'. His research focuses on group singing, music health and wellbeing, musician education, music and virtuality and Community Music (CM). Dave has pioneered the use of Sensemaker® 'distributed ethnography' as a method for research into cultural phenomena.
Dave leads a number of community choirs in the Natural Voice (NVN) tradition, and won the National Trust's Outstanding Achievement Award in 2019 for an AHRC/Arts Council England funded mountain-top singing project, The Fellowship of Hill and Wind and Sunshine. He was a trustee of the NVN from 2015-19 and co-chair of the March Network's Special Interest Group (SIG) in singing and mental health 2019-21. Dave lives in Cumbria in Northern UK, leads many outdoor music events, was founding director of music organisation SoundWave, and a co-founder of the Solfest music festival.
Dave is a LAHP (London Arts & Humanities Partnership) doctoral student supervisor, currently supervising the work of Florence Brady.
Selected publications
Camlin, D.A. (Forthcoming) Music Making and the Civic Imagination. Intellect (Music Education and Society).
Camlin, D. A., & Reis, H. (Forthcoming). Music Making as Holistic Praxis. In Ethno Research. Intellect.
Camlin, D.A. (2021a) 'Mind the Gap!', in Willingham, L., Community Music at the Boundaries. Waterloo, ON: Wilfrid Laurier University Press, pp. 72–95. Available at WLU Press.
Camlin, D.A. (2021b) 'Organisational Dynamics in Community Ensembles', in Daffern, H., Bailes, F., and Timmers, R., Together in Music. Sheffield: Oxford University Press, pp. 24–34.
Camlin, D.A. (2021c) 'Recovering our Humanity - What's Love (and Music) Got to Do With It?', in Boyce-Tillman, J. and Hendricks, K., Authentic Connection: Music, Spirituality, and Wellbeing. Oxford; New York: Peter Lang UK (Music and Spirituality), pp. 293–312.
Camlin, D.A. (in press) 'Encounters with Participatory Music':, in Dogantan-Dack, M., The Chamber Musician in the 21st Century. Cambridge University: OUP.
Camlin, D.A., Caulfield, L. and Perkins, R. (2020) 'Capturing the magic: a three-way dialogue on the impact of music on people and society', International Journal of Community Music, 13(2), pp. 157–172. DOI.
Camlin, D.A., Daffern, H. and Zeserson, K. (2020) 'Group singing as a resource for the development of a healthy public: a study of adult group singing', Humanities and Social Sciences Communications, 7(1), pp. 1–15. DOI.
Camlin, D.A. and Lisboa, T. (2021) 'The Digital "Turn" in Music Education (editorial)', Music Education Research [Preprint]. Edited by D.A. Camlin and T. Lisboa, (The Digital 'Turn' in Music Education). DOI.
Camlin, D.A. and Zeserson, K. (2018) 'Becoming a Community Musician: a situated approach to curriculum, content, and assessment', in Bartleet, B. and Higgins, L., Oxford Handbook of Community Music. Oxford: OUP Oxford, pp. 711–733.
Personal website Visit website
Academia.edu Visit website
ResearchGate Visit website
Faculties / departments: Research, Academic staff
Contact
For enquiries please contact:
Dr Dave Camlin
Lecturer in Music Education, Doctoral Supervisor