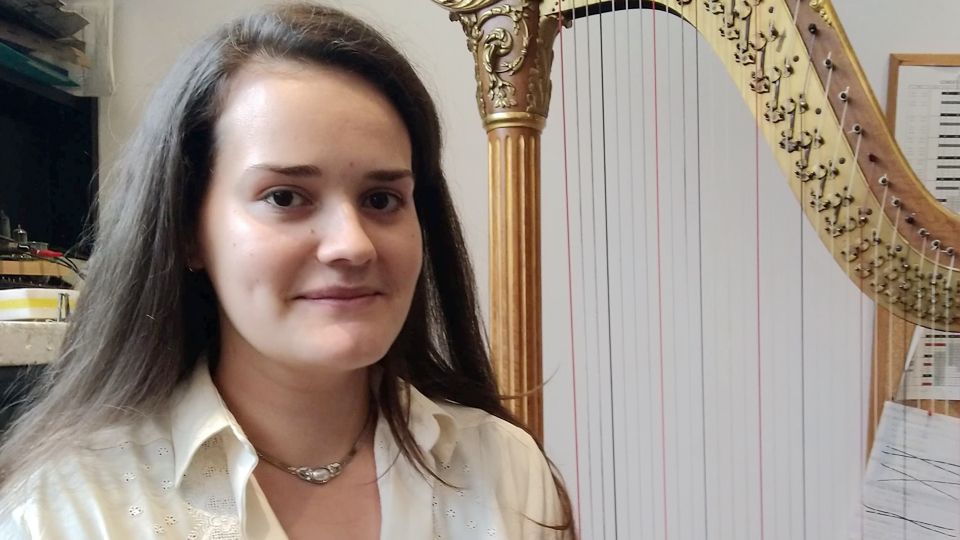 Fanny Guillaume-Castel began her doctoral studentship at the Royal College of Music in 2019. She was a recipient of the Big Give Scholarship for her first year, and is supported by the Fondation Tissier-Grandpierre - Institut de France for her third year. Her research focuses on the evolution of harp-making in 18th and 19th century Europe, and uses historical harps as an archival source for history. With a better understanding of the practices of the harp makers, she wishes to show how the evolutions in construction impacted the repertoire and practice related to the harp. Her research is conducted under the supervision of Dr. Gabriele Rossi Rognoni from the Royal College of Music, and of Thierry Maniguet from the Musée de la Musique - Philharmonie de Paris.
A native of France, she has been playing the harp for more than fifteen years. She studied at the Conservatoire Henri Duparc in Tarbes with Sébastien Horrer, and she has included this musical pursuit in her academic life.
Fanny holds two Masters degrees from the Université Paris I Panthéon-Sorbonne. The first one, completed in 2017, in Economic History led her to write a dissertation on the first harps produced by Erard in Paris and London. This work was quoted in several international publications, and she had the opportunity to present her results during symposiums at the Musée de l'Homme in Paris and at the Deutsches Museum in Munich. The second Masters degree she obtained was in Heritage and Museum Management, a degree that led her to work on harp collections at the Musée des Instruments de Musique in Brussels and Musée de la Musique in Paris with which she is still often collaborating. Over the years, she has also worked with several museums and institutions regarding their musical collections such as the Château de Versailles or the French National Library at the Opéra de Paris.
Faculties / departments: Research
Research
Research areas
Research supervisors
Contact
For enquiries please contact:
Fanny Guillaume-Castel
Doctoral Student