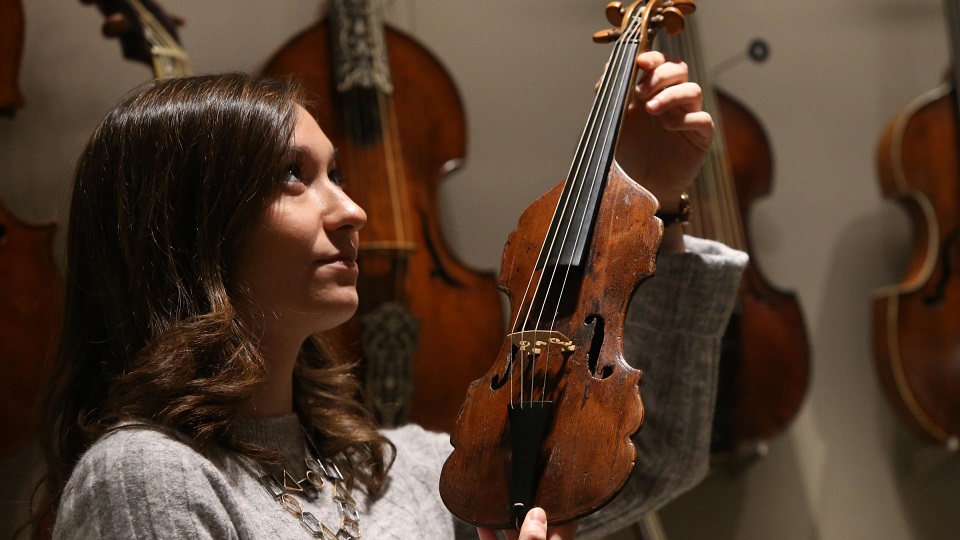 Arianna Rigamonti is a doctoral student in Material Culture and Music at the Royal College of Music. Under the supervision of Prof. Gabriele Rossi Rognoni, her research looks at fantastic and marvellous musical instruments in Early Modern Europe, with a particular focus on their symbolism and role in the cultural society at that time. She is a RCM Studentship Holder.
Arianna holds a Master's degree in musicology from the Department of Musicology and Cultural Heritage in Cremona, of the University of Pavia, Italy. The interest in historical musical instruments and organological studies has led her to pursue two internships in musical instrument museums. In October 2017, she started a four-months Erasmus Traineeship at St Cecilia's Hall – Concert Room and Music Museum – in Edinburgh, where she carried out an interdisciplinary investigation on two "violins without sides" held in the museum collection, together with Jonathan Santa Maria Bouquet, Sebastian Kirsch and Michela Albano. Between November 2019 and June 2020, Arianna was an intern at the Rijksmuseum in Amsterdam, assisting the curator of the musical instrument collection Giovanni Paolo Di Stefano.
Arianna was awarded the William E. Gribbon Memorial Award by the American Musical Instrument Society (AMIS) that allowed her to attend and present her papers at the 2018 and 2019 AMIS meetings in Bethlehem (Pennsylvania) and Greenville (South Carolina).
Arianna is also a violinist. She completed her violin studies at the Gaetano Donizetti Conservatory in Bergamo in 2016 and has performed with various orchestral and chamber music ensembles between the cities of Bergamo, Brescia and Cremona.
Faculties / departments: Research
Research
Research areas
Research supervisors
Contact
For enquiries please contact:
Arianna Rigamonti
Doctoral Student