RCM Junior Department
'The Royal College of Music Junior Department is an environment of great enthusiasm, opportunity and enjoyment.'
Every Saturday during term time, the RCM buzzes with the excitement of music making at a high level. The sound of individual lessons, ensemble rehearsals and classes taking place in every corner of the building is an inspiring phenomenon.
The RCM Junior Department (RCMJD) is a fantastic opportunity for talented young musicians (8-18 year olds) to flourish in a supportive community of similarly talented students and the very best teachers.
'A big thank you to all the staff who have helped me to grow, not just as a musician, but as a person, during my four years at Junior Department.'
'I have had so many opportunities and so much fun at Junior College and have made friends for life in a really supportive and constructive environment.'
'Being able to interact, socialise with and work with other young musicians allowed me to expand my musical knowledge and enjoyment hugely.'
'A warm, supportive, and inspiring place to study.'
'I am so thankful for my time at JD since I have made some strong friendships, been given some wonderful opportunities and I'm sure it will stand me in good stead for the future.'
'I have warm memories of my time here: the stimulating atmosphere, wall-to-wall music, inspiring teachers and friendships made have all been very special.'
Explore our range of programmes
As well as our main programme we run special programmes for bassists and visually impaired musicians
Find out everything you need to know about applying to be part of the Junior Department
Our students come together from all over the UK to enjoy a tailor-made programme of outstanding individual lessons, chamber music, musicianship, orchestral and choral training.
If you want to make the most of your musical ability, we are here to help you. We are committed to nurturing potential and offer a warm, creative yet disciplined environment in which you will flourish. Enthusiasm, energy, focus and dedication are at the heart of everything our staff and students do.
You can find a copy of our latest prospectus available for download below.
RCMJD Prospectus
RCM Sparks Summer Music
RCM Sparks runs an exciting programme of summer events for families and young people every year. The programme will be announced along with the rest of the RCM Summer Season in April. Please refer to RCM Sparks for more information.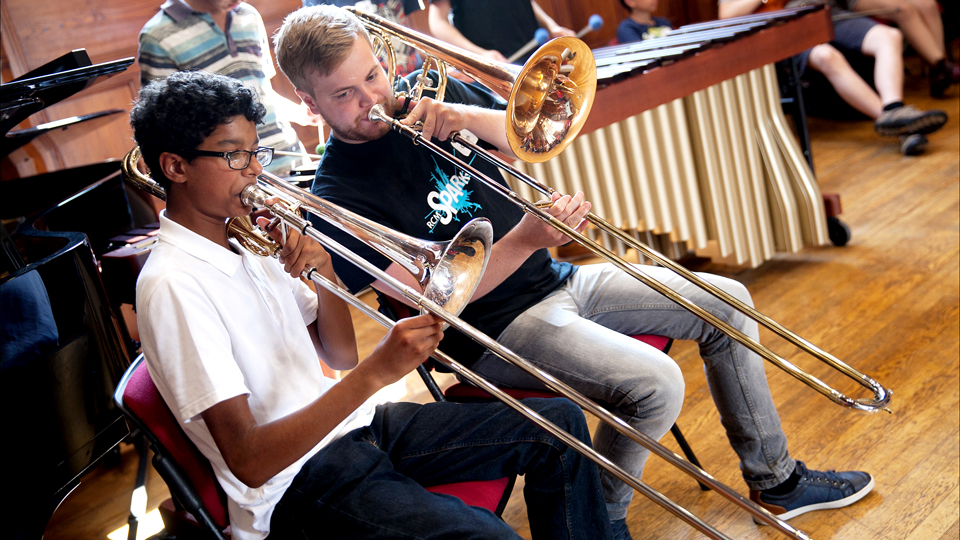 'A simply wonderful institution, priceless staff, a hugely life-enhancing experience for all the fortunate students who attend'
'We're amazed at how you manage to treat such a large number of very diverse children as individuals!'
'The Junior Department has always been a joy to us.'
'A great programme run in an outstanding way.'
'Saturdays were always the highlight of his week – as well as hard work, there was clearly a lot of fun and laughter!'
'We have never ceased to be impressed by the dedication and talent of staff and pupils in the unique environment that makes up the RCMJD.'
Latest from the Junior Department