ARCM, DipRCM (Perf)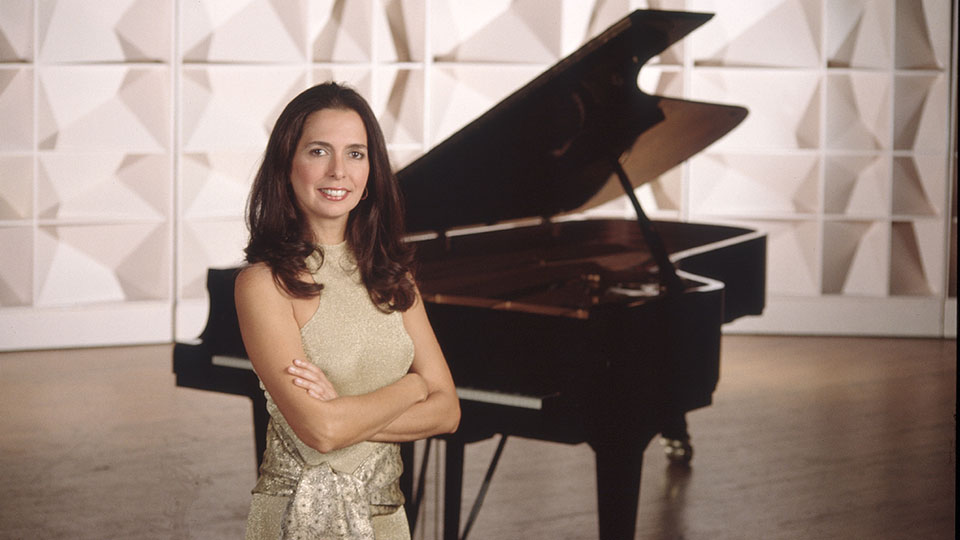 "The Venezuelan virtuoso pianist Clara Rodriguez" -Financial Times- has built an enviable international reputation for her innovative programme planning, juxtaposing standard repertoire with works by South
American composers and has commissioned, premièred and is the dedicatee of over thirty works. Her playing stands out for its sheer beauty of tone, high expressiveness, sensitivity considerable digital clarity combined with stylistic acumen.
At sixteen she was in her eighth year at the Conservatorio Juan José Landaeta of Caracas when she took part in a national competition judged by Michael Gough Matthews and Barbara Boissard, the then directors of both The Royal College of Music's Senior and Junior Departments. She was awarded the Teresa Carreño Scholarship, which enabled her to come to London to study at the Royal College of Music with Phyllis Sellick where she was the recipient of many prizes and awards including the Scarlatti Prize, the Mozart Prize, and the Percy Buck Award, as a finalist in the Chappell Prize. With the Royal College of Music orchestras, she performed concertos by Mozart, De Falla, and Ravel.
In Caracas, at seventeen, she made her debut playing Mozart's Piano Concerto K595 with the Simón Bolívar Orchestra under the baton of José Antonio Abreu.
Pianist Guiomar Narváez (Venezuela) was Clara Rodriguez's first piano teacher in Caracas. She also received tuition from Paul Badura-Skoda (Austria), Niel Immelman (U.K.), Irina Zaritskaya (Russia) and Regina Smendzianka (Poland).
Clara Rodriguez's career as a solo pianist has taken her to perform to great acclaim in the U.K., France, Spain, Italy, Denmark, Finland, Venezuela, the United States, India, Egypt, Syria, and Tunisia.
In London, she is a hugely popular performer who regularly plays in recitals and as soloist with orchestra in the most prestigious halls including the Southbank Centre, Wigmore Hall, Barbican Centre, St. Martin-in the-Fields, St. James's Piccadilly, St John's Smith Square, Leighton House, Bolívar Hall and the 1901 Arts Club.
She is constantly invited to play concertos with the worldwide acclaimed Simón Bolívar Orchestra; one of those memorable dates was her participation in the Grandes Virtuosos del Piano Festival where she played the Reynaldo Hahn Piano Concerto alongside other participants that included Paul Badura-Skoda and Chick Corea.
Clara Rodriguez is often interviewed by the BBC and her CDs constantly feature on the BBC Radio stations and in networks world-wide. She has recorded six solo albums for Nimbus Records that include the piano works by Moisés Moleiro, Federico Ruiz, Teresa Carreño, Ernesto Lecuona, "Venezuela", "Americas without frontiers" and her latest release of late works by Chopin which is found on the Ulysses Arts label. Clara Rodriguez regularly plays recitals at Arundells, the home of the former Prime Minister of the UK, Sir Edward Heath.
She is a most appreciated pedagogue; her students have been awarded numerous scholarships to the most prestigious universities and music colleges and a great number of them are pursuing careers as piano performers and teachers. They have been successful in public concerts at the Wigmore Hall, the Elgar Room of the Albert Hall and venues all over the U.K. She teaches at the JD of the Royal College of Music.
Clara Rodriguez has been awarded the "Classical Music Act" LUKAS Prize 2015, has been made an honorary member of the Chelsea Arts Club and has been named "Woman of the Year" by the main newspapers and magazines of Venezuela. She is an editor with published scores on Cliffton Editions and the ABRSM.
Some of the artists and orchestras she has performed in concerts with include clarinettist and conductor Michael Collins, the Concertmaster of the BBC Symphony Orchestra, Stephen Bryant, guitarists Alirio Díaz and Miguel Delgado-Estévez, El Cuarteto ensemble, Orchestra of the Age of Enlightenment, Orquesta Sinfónica Simón Bolívar, Sinfónica de Venezuela, Orquesta Filarmónica Nacional de Venezuela, Orquesta Municipal de Caracas, Orquesta Sinfónica de Maracaibo, Orquesta Sinfónica Francisco de Miranda, Orquesta Sinfónica Juan José Landaeta, Phoenix Orchestra, Orquesta de Aragua, Fulham Symphony Orchestras, Camden Symphony Orchestra, conductors Jordi Mora, Marc Dooley, Levon Parikian, Christopher Adey, Eduardo Rahn, Teresa Hernández, Carlos Riazuelo, Alfredo Rugeles, Rodolfo Saglimbeni, Luis Miguel González-Fuentes, Régulo Stabilito, Telésforo Naranjo, Jesús Uzcátegui.
"Americas Without Frontiers" CD
"The Venezuelan is a doughty champion of Latin American music, and her programme of piano pieces reaches below and often jaunty surface to capture the region's deeper soul. Plenty is captivating, not least Venezuelan works by Antonio Estévez and Juan Carlos Núñez, while Gershwin's Three Preludes are a class act".
Stephen Pettit. The Sunday Times. London.
"Venezuelan Clara Rodríguez, one of the most distinguished pianists on the international scene. This distinction is evident especially in the emotional connection she has with Chopin's music. Rodríguez marks with delicious expressiveness its differences and contrasts while maintaining a perfect balance in the inseparable fusion between form and content. The truth is that the wisdom of Rodriguez's interpretation, provides to her versions a universal dimension of romantic pianism."
Marçal Borotau. Sonograma Magazine. Barcelona-Spain.
"Most of what Clara Rodriguez played to a full Wigmore Hall was marked by the sheer beauty of her tone".
Max Harrison. Musical Opinion. London.
"Clara Rodriguez provides performances of alluring vivacity allied to that most essential of requisites charm".
Jeremy Nicholas. Gramophone Magazine. London.
Faculties / departments: Junior Department
---
Contact
For enquiries please contact:
Junior Department Enquiries