Conducting
'From clear technique to inspired communication, our conductors are taught to develop their own individuality.'
The Royal College of Music's two-year postgraduate course in orchestral conducting is designed to support students as they develop their own individual conducting style. From contemporary compositions to large symphony orchestra repertoire, recording sessions to rehearsals and concerts, you will be involved in all aspects of musical life at the RCM.
Conducting at the RCM
Postgraduate professor of Conducting, Peter Stark, and student conductor Richard Miller discuss the fantastic opportunities and training available at the RCM.
A conducting module is available to undergraduate students, who will be introduced to the challenges and rewards of conducting as part of their wider study. Conducting is also available as a second study specialism to promising undergraduates and postgraduates. Second study students can enjoy a mixture of individual and class lessons focusing on the skills and knowledge necessary to develop in this field.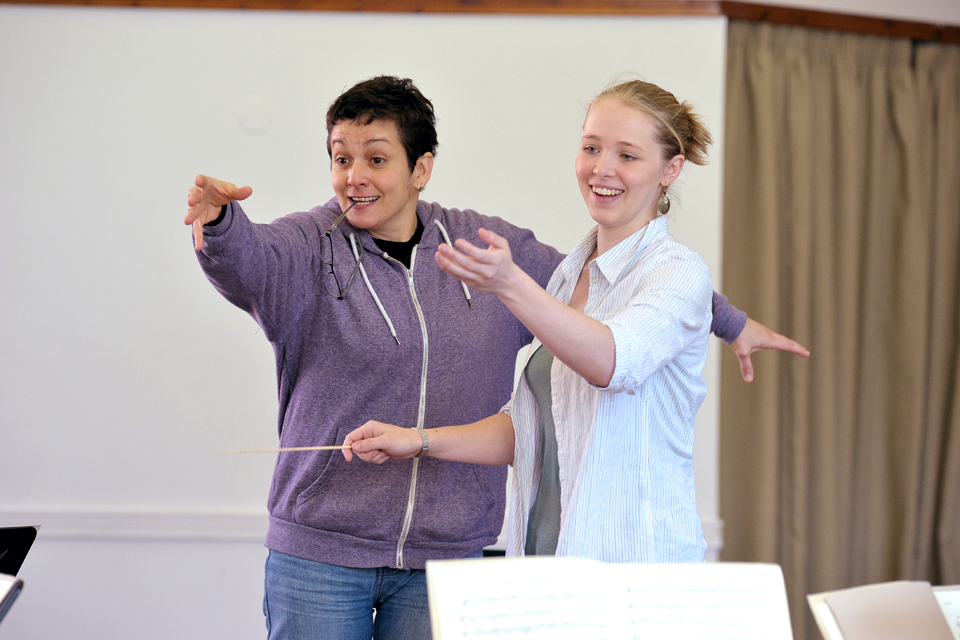 One-to-one lessons
One-to-one lessons are at the very heart of every RCM student's learning experience. Each of our conducting professors brings a different but compatible approach to teaching, drawing on the wealth of experience they have in their own fields.
Postgraduate conducting
A detailed programme of technical and repertoire study compliments a wealth of quality podium time, including public performances with full orchestra plus orchestral and sectional preparation for visiting international conductors.
Conductors at the RCM have the opportunity to develop a wide range of skills, gaining an all-round understanding of the artistic, psychological, practical and business issues involved in making a career as an orchestral conductor.
Professional engagement will be a key component of your experience as a conductor at the RCM. Industry professionals periodically meet with our students, providing valuable insights and career advice. One recent visitor was Paul Hughes, General Manager of the BBC Symphony Orchestra, who shared his thoughts on programme planning, from both artistic and financial points of view. In addition, visiting conductors of the highest calibre often work with RCM conducting students on preparing performances of key repertoire.
'It is the high-calibre playing and boundless curiosity of RCM musicians, alongside unrivalled amounts of podium time, that I enjoy the most.'
'I'm privileged to conduct the RCM Students' Film Orchestra once a term and have set up my own chamber ensemble.'
'The opportunities are hugely varied, rich, and rewarding and provide a broad foundation from which to expand your skills.'
'The Royal College of Music gave me the invaluable space and support to make the transition from playing to conducting.'
'On top of it being a world-renowned conservatoire, the main reason I chose the RCM was the opportunity to have not one but two teachers.'
'One of the most interesting things that attracted me to the Conducting Faculty at the RCM was the large amount of podium time and the possibility to study with two great professors at the same time.'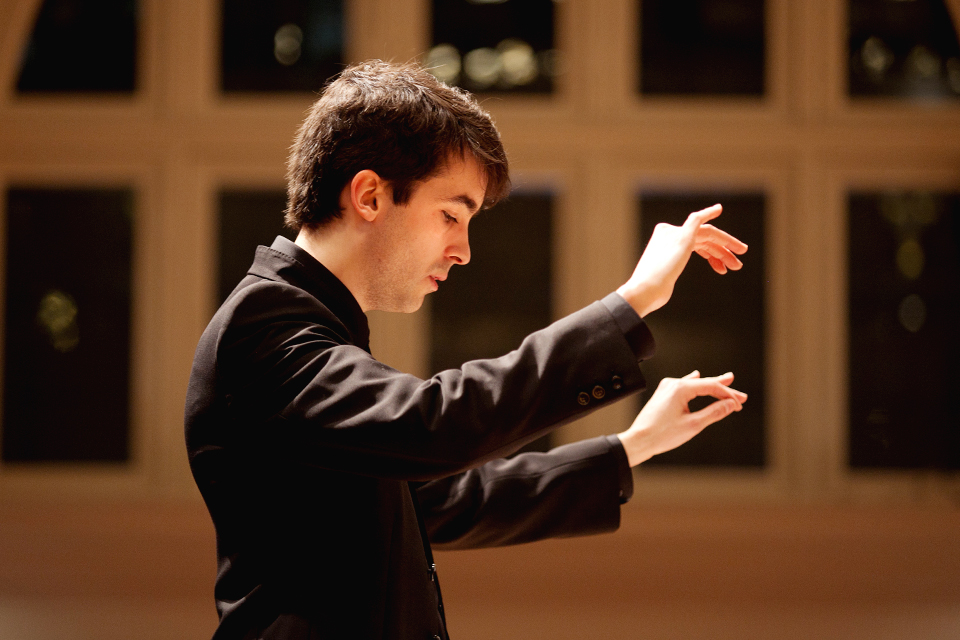 Recent visiting artists
RCM students have been mentored by a number of renowned visiting conductors, including:
Vladimir Ashkenazy
Martyn Brabbins
Bernard Haitink
Vladimir Jurowski
Holly Mathieson
Sir Roger Norrington
Rafael Payare
Jac van Steen
John Wilson
Thomas Zehetmair
Sir Roger Norrington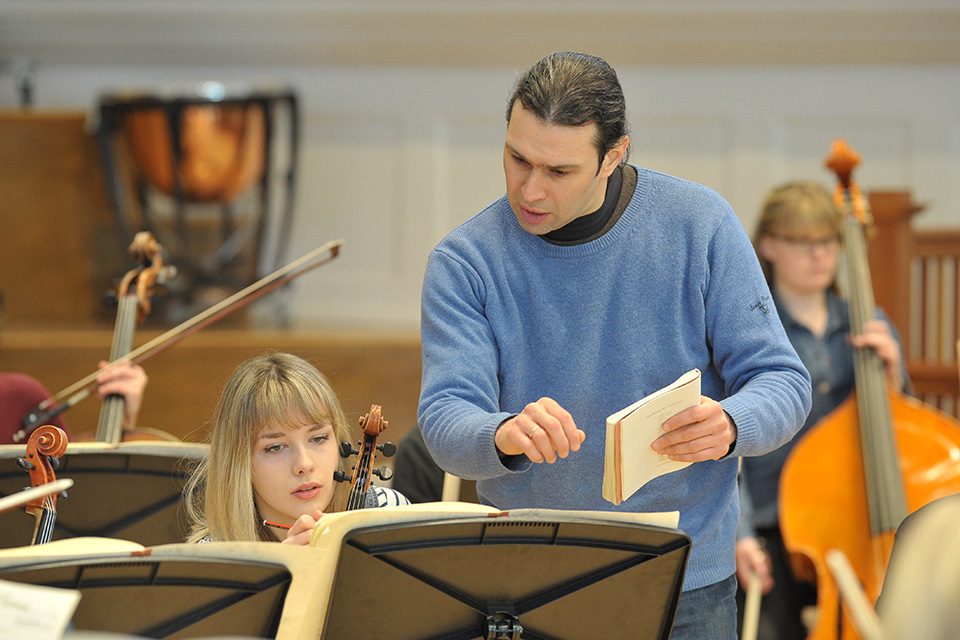 Vladimir Jurowski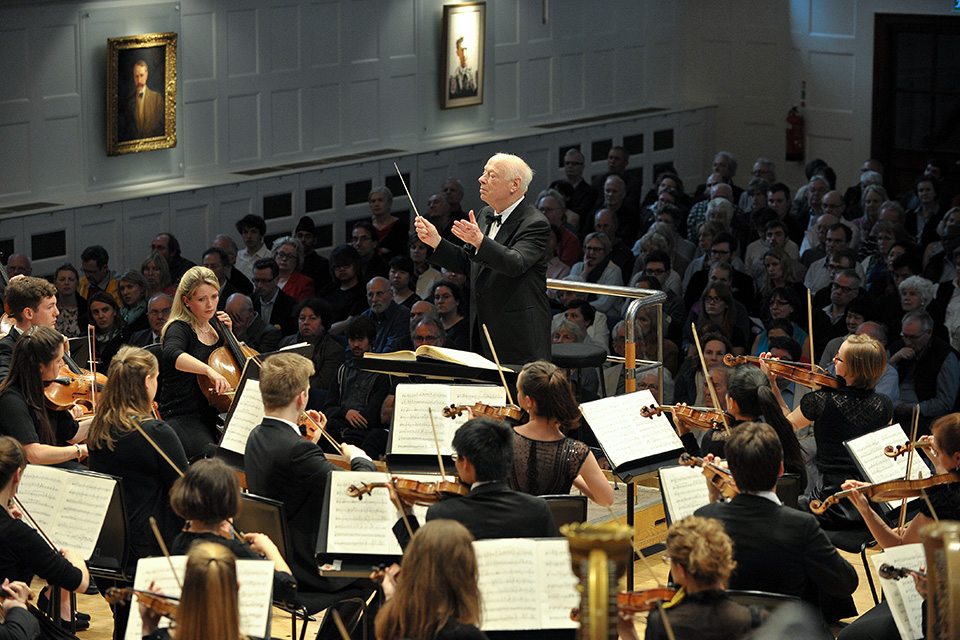 Bernard Haitink
Vladimir Ashkenazy
Performance opportunities
Conducting students regularly rehearse and perform with our in-house ensembles, including the RCM Philharmonic, RCM Symphony Orchestra, and various new music ensembles. They often premiere new works by RCM composers working with the RCM New Perspectives ensemble or as part of our cutting-edge From the Soundhouse series.
All of these public conducting opportunities are an integral part of the RCM's annual programme of events. In addition, our students have directed RCM orchestras in external venues, including London's Royal Festival Hall.
Recent student-led projects have included a Conductors Podium including music by Milhaud, Elgar and Korngold, and a French Baroque project in collaboration with our Vocal & Opera and Historical Performance faculties.
Repertoire
Conducting students engage with a lot of repertoire, often covering a broad range of styles. An example of one term's worth of repertoire for a typical student might be:
Beethoven Symphony no 1
Beethoven Symphony no 2
Beethoven Symphony no 6
Brahms Symphony no 1
Debussy Prélude à l'après-midi d'un faune
Debussy La mer
Mozart Overture from Don Giovanni
Mozart Overture from Die Zauberflöte
Ravel La valse
Saint-Saëns Carnival of the Animals
Schumann Piano Concerto
Schumann Symphony no 3
Shostakovich Symphony no 10
Sibelius Symphony no 7
Stravinsky Rite of Spring
Wagner Prelude and Liebestod from Tristan und Isolde
Graduate successes
RCM conducting graduates are working successfully across the music world including:
Andrew Gourlay as Principal Guest Conductor of the Orquesta Sinfonica de Castilla y Léon.
Rui Pinheiro as Principal Conductor of Orquestra Classica do Sui in Portugal.
Graham Ross as Director of Music and Fellow of Clare College Cambridge and co-founder and Principal Conductor of The Dmitri Ensemble.
John Wilson as Founder and Director of the John Wilson Orchestra.
Celebrated alumni
Sir Colin Davis
Sir Charles Groves
Simon Halsey
Sir Neville Marriner
Sir Roger Norrington
Leopold Stokowski
John Wilson
Career development
The RCM's Creative Careers Centre, which is recognised internationally for its innovative approach to supporting young musicians, provides an unparalleled service to current students and recent alumni. The dedicated team partners with leading consultants, reputable arts organisations and local communities, delivering unique career-building opportunities and a direct route to the music industry.
The work of the Creative Careers Centre allows students to discover their professional identity, gain hands-on experience and new skills, develop an entrepreneurial mind-set and build a fulfilling professional portfolio.
Extensive performance and teaching opportunities are available, as well as valuable guidance on CV and biography writing, concert programming, communication skills, project management, marketing and publicity, online promotion, financial matters and how to develop a business idea.
Facilities
We continually invest in our facilities to ensure RCM students have the very best opportunities. Our impressive performance spaces are matched by top-quality academic and technical provisions, such as our historic library and professional grade studios. The Royal College of Music is proud to offer some of the finest facilities anywhere in the world.
The RCM's largest performance spaces are the Amaryllis Fleming Concert Hall, which has an illustrious history, and the 400-seat Britten Theatre, which boasts excellent technical facilities for the RCM's thriving International Opera School. In addition, more intimate spaces include The Parry Rooms, which have unparalleled views of the Royal Albert Hall, and our 100-seat Recital Hall.
As well as practice rooms and space for one-to-one and group teaching, the RCM contains dedicated opera rehearsal spaces, 11 Amadeus Music Pods and organ rooms. We have over 140 pianos, including 60 grand pianos and 20 early keyboards, instrument storage with special facilities for harps and double basses, plus in-house instrument workshops.
RCM Studios is a commercial-grade facility, equipped with professional audio, video and composition technologies, supporting the RCM's recording needs and enabling live broadcast of performances around the world.
The RCM Library contains more than 350,000 scores, books and recordings in its lending collection, plus access to more than 400 music journals. In addition, the RCM boasts an internationally renowned collection of more than 20,000 original manuscripts (including examples from Mozart and Elgar) and 40,000 early printed editions.
The RCM Museum holds more than 15,000 instruments dating from the late 15th century to the present day, some of which are the earliest known examples of their kind. The collection is a unique resource and many of the instruments in the collection can be studied or played by RCM students.
The public museum is currently closed for refurbishment, but its vital resources are still available to our students.
Courses available
Postgraduate
Contact the Conducting team
If you have any general queries about condcuting at the RCM please contact the Conducting Administration team. If you have any queires about auditions or the admissions process, please contact our Admissions team.
Conducting team administration
General enquiries about the operation of the team and consultation lessons
Admissions
Admissions and general audition enquiries