Dame Evelyn Glennie Opens RCM's Brand New Percussion Suite
Friday 27 November 2015
The Royal College of Music's brand new percussion suite was officially opened on 26 November 2015 by pioneering percussionist, Dame Evelyn Glennie.
Dame Evelyn was greeted by Head of Percussion, David Hockings, and an enthusiastic group of students, who demonstrated the range of facilities available and the exceptional level of music making fostered within the Percussion Faculty.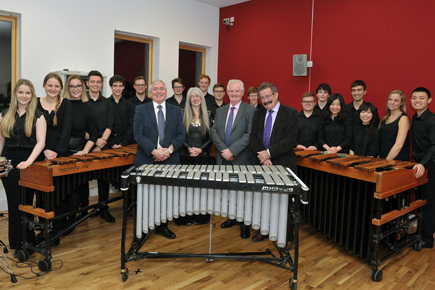 Professor David Hockings, Dame Evelyn Glennie, Professor Colin Lawson and Professor Lord Winston with Percussion Faculty Students in the new suite
"There's a wonderful working creative area here and that's very important for any musician", said Dame Evelyn. She remarked on how well the new suite catered for percussionists, whose work is often logistically demanding. Dame Evelyn and Professor Hockings reminisced about their own time as students 30 years ago, when space was scarce and large instruments often unavailable for practice.
Percussion students at the RCM can now enjoy dedicated rehearsal spaces for timpani, vibraphone, marimba and orchestral percussion. The suite also includes a multi-percussion room, a larger main room, a studio space and state-of-the-art technology for teaching, recording and rehearsing.
Dame Evelyn Glennie cuts the ribbon and officially opens the new percussion suite, with Professors Colin Lawson and David Hockings
Dame Evelyn said "it's such a pleasure, not just to witness the amazing playing from our young players, but to see this amazing facility." Addressing the students directly, she added "I really hope you feel this facility belongs to you and this is for you to use; it's your area, it's your future".