HRH The Prince of Wales Presents Honours During Annual Visit
Thursday 10 March 2016
Composer Steve Reich along with leading conductors Vladimir Jurowski (pictured) and Sir Roger Norrington, received Honorary Doctorates from HRH The Prince of Wales today, while popular film and TV composer Barrington Pheloung, an RCM alumnus, was honoured with a Fellowship.
HRH The Prince of Wales, President of the Royal College of Music since 1993, presented awards to several others who have made significant contributions to musical life. Then followed a short concert featuring three prize winners and recent graduates of the RCM. Percussionist Louise Goodwin was honoured with the Queen Elizabeth The Queen Mother Rosebowl, while composer Michael Ladouceur and violinist Naoka Aoki both received Tagore Gold Medals.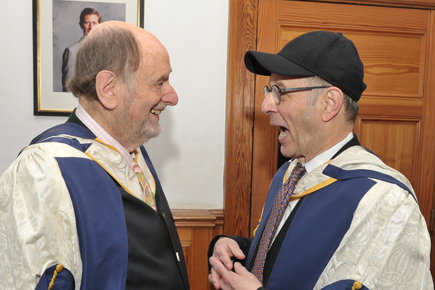 Honorary PhDs, Sir Roger Norrington and Steve Reich

Sir Roger Norrington, a pioneer of historically informed performance practice and an alumnus of the RCM, said 'we have a high standard of young musicians in this country, and so many of them come from the Royal College of Music. When I come to conduct them each year I am impressed by their talent and their seriousness of purpose. The College provides an ideal atmosphere for this work.'
Pulitzer prize winning composer Steve Reich, described by The Guardian as being among 'a handful of living composers who can legitimately claim to have altered the direction of musical history,' joins RCM musicians this evening for a concert of some of his most seminal works and tomorrow shares his knowledge and enthusiasm with RCM composers in a masterclass.
Vladimir Jurowski returns to conduct the RCM Symphony Orchestra in a programme of music by Stravinsky on 28 April.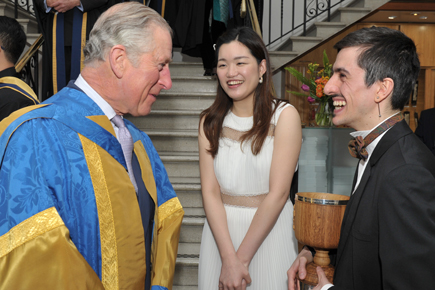 HRH The Prince of Wales with prize winners Naoka Aoki and Pedro Merchán Correas

Among others that received recognition today was Darren Henley OBE, Chief Executive of Arts Council England, who was given honorary membership of the Royal College of Music.
Director Professor Colin Lawson said 'the annual visit by our President, HRH The Prince of Wales, is a highlight of the Royal College of Music's calendar of events and I am delighted that he joins us again to honour an illustrious array of world-renowned musicians and leading figures from across arts and education. The recipients of today's honours and prizes have all made important contributions to the RCM, and to the wider international music community.'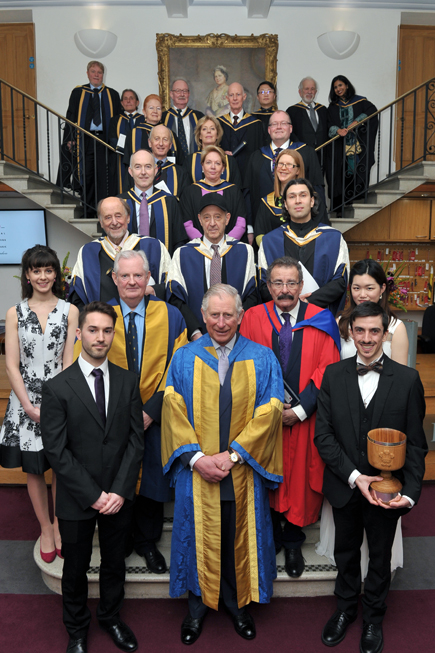 HRH The Prince of Wales with Director Professor Colin Lawson, Chairman Professor Lord Winston and recipients of prizes and awards

Also receiving recognition today were:
Bassoonist Pedro Merchán Correas, winner of the President's Award;
Susan Harbour, Zheng Huang, Roger Kneebone, Natasha Loges, Leonard Polonsky CBE and Gill Redfern, who were all admitted to Honorary Membership of the Royal College of Music;
and Ieuan Jones, Professor Richard Langham Smith, Timothy Lines, Melissa Phelps, Elizabeth de la Porte and Nicholas Ward, who were all admitted to Fellowship of the Royal College of Music.
For more information on the President's Visit and the prize winners, please see our press release.
Photographs © Chris Christodoulou