Announcing our Summer Season
Wednesday 30 March 2016
We're delighted to announce the Royal College of Music's Summer Season, focusing on the music of Igor Stravinsky.
As part of the Philharmonia Orchestra's Stravinsky: Myths and Rituals series, the RCM Symphony Orchestra returns to the Royal Festival Hall on Sunday 26 June to perform an all-Stravinsky programme, conducted by acclaimed interpreter of 20th and 21st century music, Diego Masson.
Other events in this series see RCM musicians perform a varied programme of the Russian composer's music for strings and chamber works for wind, brass and piano at the Royal College of Music.
We also welcome internationally renowned conductor, Vladimir Jurowski, to the College to lead the RCM Symphony Orchestra in a performance of Stravinsky's neoclassical masterpiece, Pulcinella.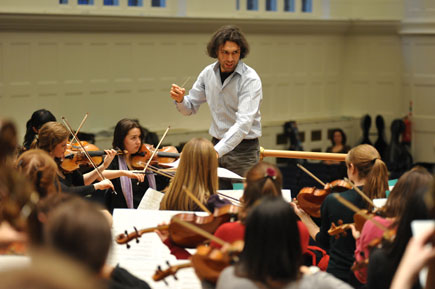 Vladimir Jurowski with RCM students

Other season highlights include an exciting two-day residency with award-winning Israeli composer Chaya Czernowin, a series of six brand-new operas to mark 150 years since the publication of Dostoyevsky's , and a new collaboration between the RCM and the London Philharmonic Orchestra celebrating contemporary music and cutting-edge compositions.
Our series continues, featuring popular works by Prokofiev, Tchaikovsky and Britten, and we welcome back Olivier award-winning director Liam Steele to direct a new production of Humperdink's enchanting .
Outside of the College's South Kensington home, outstanding RCM soloists and chamber musicians return to Cadogan Hall for the annual series, while a summer concert at Wigmore Hall once again showcases the RCM's talented string musicians.
Following his brilliant masterclass at the Royal College of Music in 2013, Sir András Schiff will once again be working with exceptional RCM pianists. Our ongoing masterclass series also includes visits by RCM alumnus baritone Sir Thomas Allen, star violinists Pinchas Zukerman and Alina Ibragimova, acclaimed harpsichordist and organist Ton Koopman and leading piano accompanist Graham Johnson.



The RCM is delighted to continue its series of live broadcasts, with a number of events being streamed live via www.rcm.ac.uk/live during the Summer Season.
Booking for Summer Season concerts opens on Wednesday 6 April 2016, although you can book for our Composition for Screen Showcase, Sacconi Quartet concert and Crime and Punishment operas now.
For full details of the Royal College of Music's 2016 Summer Season, please visit www.rcm.ac.uk/events