Joseph Horovitz Celebrates His 90th Birthday
Friday 27 May 2016
On 26 May the Royal College of Music marked the 90th birthday of celebrated composition professor Joseph Horovitz with a special reception hosted by Director of the RCM Professor Colin Lawson.
Joseph has composed for Son et Lumière productions, and over 70 scores for TV and film, including several series of Agatha Christie and Dorothy L Sayers Mysteries, BBC Shakespeare plays, dramatised documentaries and many TV themes. The wealth of his experience has made his contribution to the RCM's Composition Faculty, and particularly its renowned Composition for Screen course, invaluable.
'Everybody talks about Joseph Horovitz and, as a clarinettist, I understand why,' said Professor Lawson. 'Joseph as a human being is such an extraordinary phenomenon. To wear that amount of talent so lightly is a real example to students'.
Professor Colin Lawson presents Joseph Horovitz with a birthday gift

In 1948, Joseph arrived at the RCM as a student himself and joined the teaching staff in 1961, making him one of the longest serving members of College staff.
Head of Composition William Mival commented, 'what I have always admired is the exceptional level of your commitment to the RCM and its students, your pragmatism and your professionalism as a composer and, above all, your musicianship – which has meant everything to all of us here'.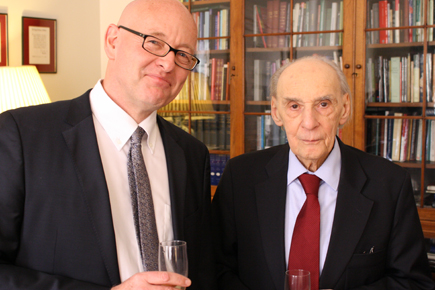 William Mival, Head of Composition, with Jospeh Horovitz

Joseph's birthday is also being marked across the musical world. The RCM Students' Film Orchestra recently played the Rumpole of the Bailey theme at their May concert at the RCM. Soprano Susanna Fairbairn and pianist Matthew Schellhorn will perform a selection of Joseph's vocal music at Wigmore Hall on 13 June and the oratorio Samson will be performed by the Addison Singers and East London Brass at Cadogan Hall on 9 July. The Royal College of Music will celebrate Joseph's music and career in a concert of his music on Tuesday 29 November.