Alan Alda visits the Centre for Performance Science
Wednesday 16 November 2016
Renowned actor, writer, director, and presenter Alan Alda visited the Centre for Performance Science at the Royal College of Music on 14 November. The visit was part of his ongoing mission to support the communication of scientific research to a wider audience.
Best known for his roles as Captain Hawkeye Pierce in M*A*S*H, Arnold Vinick in The West Wing and numerous film roles, Mr Alda is an enthusiastic supporter of science. He has presented long-running science programmes on PBS and helped to found the Alan Alda Center for Communicating Science at Stony Brook University.
Professor Aaron Williamon, Head of the Centre for Performance Science, introduced Mr Alda to the RCM's performance simulator, which trains musicians for performance and auditions in front of a simulated audience or audition panel. RCM researchers are using the performance simulator to analyse the physical effects of performance.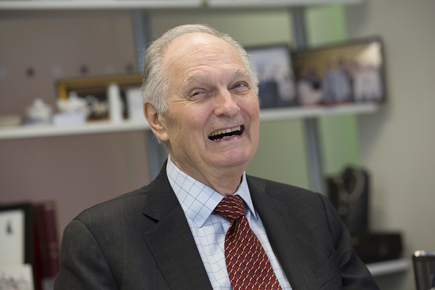 Mr Alda also visited neighbouring Imperial College, with whom the RCM enjoys a close collaborative relationship. Using world-class facilities and expertise from both institutions, the Centre for Performance Science explores the major challenges of performance, the benefits of experiential learning and the important relationship between music, health and wellbeing, both for musicians themselves and for wider society. Thanks to this close partnership, the RCM and Imperial College are able to offer a BSc in Physics and Music Performance – an interdisciplinary course for undergraduates. Postgraduate RCM students on the MSc in Performance Science and many of our doctoral researchers are based at the Centre for Performance Science, benefiting from its unrivalled resources.
Asked why he is such a passionate advocate of scientists communicating their work, Mr Alda said: 'I'm tremendously interested in communicating because the public need to understand science so they can champion and improve and spend on science – and also so they can raise informed questions about it, because feedback from the public is very important, but only if they are exposed to real knowledge and not rumour and fear'.
Alan Alda, Arlene Alda and Marcus Macdonald

Mr Alda was accompanied by his wife Arlene – a photographer, author and former clarinettist with the Houston Symphony Orchestra under the baton of RCM alumnus Leopold Stokowski. The RCM's Director of Finance and Estates Marcus MacDonald presented Mrs Alda with a facsimile of the autograph score for Stokowski's orchestration of Debussy's Clair de Lune, which was donated to the RCM by the Stokowski Society in 2009.