2017 Rod Williams Memorial Concert Announced
Friday 20 January 2017
The Royal College of Music is delighted to announce that the RCM Symphony Orchestra concert on Thursday 9 March 2017, conducted by Nicholas Collon (pictured), will be the 2017 Rod Williams Memorial Concert.
The Rod Williams Memorial Concert has been an annual event at the RCM since 1996 and is generously supported by the Mills Williams Foundation. The RCM is extremely grateful for the continued support of the Trustees of the Foundation and looks forward to welcoming a number of them to this concert.
The Mills Williams Foundation also provides an annual prestigious Junior Fellowship for a student on the RCM's Artist Diploma Course. The current Mills Williams Junior Fellow is pianist Andrew Yiangou.
About Rod Williams (1939-1994)
The son of an Army Officer, Rodney Peter Williams was born in Singapore in November 1939. Shortly afterwards Rod's father became a Japanese prisoner of war while his mother and her two young sons fled to Australia. Eventually the family was re-united in the UK and much of Rod's education took place at Steyning in West Sussex. He followed his father into the Royal Engineers and once again to the Far East where he was engaged in map-making. Deciding that army life was not for him, he bought himself out, but continued as a photogrammetrist with Fairey Aviation, after which he embarked on a career in accountancy and joined Unilever.
Rod Williams and Peter Mills met in 1964 and discovered they had similar musical tastes. They both favoured ancient, baroque and late 19th- and 20th-century English music – particularly Vaughan Williams, Butterworth and Britten. In 1975, Rod was diagnosed with cancer, which eventually went into remission. This had the remarkable effect of making him more ambitious. In 1980, inspired by watching the London Marathon on TV, he became first a jogger, then a runner and, astoundingly, a marathon runner in London in April of 1986 and again in New York in the same year.
Rod and Peter decided to make reciprocal wills dedicated to the encouragement of musical excellence. Rod passed away in 1994. Responding to his partner's passing, Peter approached the Royal College of Music in 1995 and thus the Mills Williams Junior Fellowship was established. Sadly, Peter died in 2006 after a long battle with cancer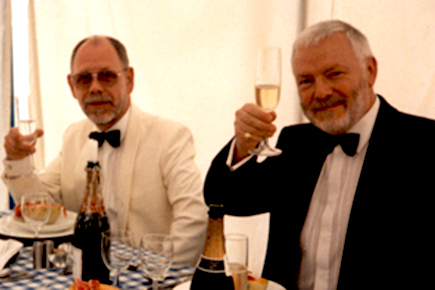 Rod Williams and Peter Mills
Mills Williams Junior Fellows
Happily, the Mills Williams Foundation lives on with the objective of supporting music and young musicians under the guidance of his chosen trustees. To date, the following 20 Mills Williams Junior Fellows have been generously supported to establish their musical careers:
| | |
| --- | --- |
| 1996/97 | Paul Robinson, voice |
| 1997/98 | Alexander Taylor, piano |
| 1998/99 | Sarah Thurlow, clarinet |
| 1999/2000 | Damian Thantrey, voice |
| 2000/01 | Alexandra Wood, violin |
| 2001/02 | Rachel Nicholls, voice |
| 2002/03 | Alba Ventura, piano |
| 2003/04 | Elizabeth Cooney, violin |
| 2004/05 | Ruth Palmer, violin |
| 2005/06 | Gabriella Swallow, cello |
| 2006/07 | Anna Cashell, violin |
| 2007/08 | Luis Parés, piano |
| 2008/09 | Erik Dippenaar, harpsichord |
| 2009/10 | Konstantin Lapshin, piano |
| 2010/11 | Jianing Kong, piano |
| 2011/12 | Frédérique Legrand, cello |
| 2012/13 | Yulia Deakin, piano |
| 2013/14 | Maksim Stsura, piano |
| 2014/15 | Soh-Yon Kim, violin |
| 2015/16 | Magdalena Loth-Hill, violin |
| 2016/17 | Andrew Yiangou, piano |