RCM Museum launches Samuel Coleridge-Taylor exhibition
Monday 16 October 2017
The Royal College of Music Museum has launched a digital exhibition about alumnus Samuel Coleridge-Taylor for Black History Month. Drawing on the Royal College of Music's remarkable Coleridge-Taylor collection, the exhibition celebrates the composer's important role within the civil rights movements in Britain and the US.
Samuel Coleridge-Taylor studied under Charles Villiers Stanford at the Royal College of Music from 1890 to 1897. He soon became a musical celebrity thanks to his trilogy of cantatas known as The Song of Hiawatha, which became one of the most performed choral pieces in Britain at the time. Coleridge-Taylor gained unusual and important status as a prominent black musician in late-Victorian and Edwardian Britain.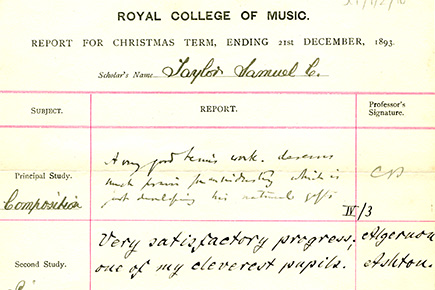 An excerpt of a report from Coleridge-Taylor's Royal College of Music piano teacher in 1892, naming him 'one of my cleverest pupils'. Several of the young composer's works were performed at the College.

The exhibition, entitled Samuel Coleridge-Taylor and the musical fight for Civil Rights, explores Coleridge-Taylor's relationships with leading civil rights activists and groups in the UK and his success in the US, where he conducted performances of his music by a choir formed in his name and became the first black man to conduct a white orchestra.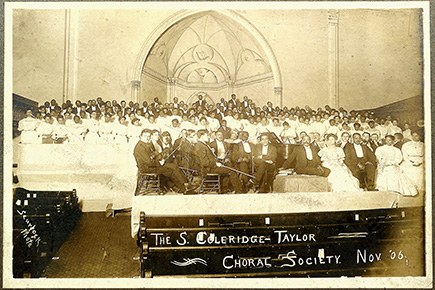 When Coleridge-Taylor first visited the US in 1904, he found himself a major celebrity. At a time when African Americans were suffering from one of the worst periods of repression experienced since the Civil War, he was celebrated as an example of what could be possible for black people.

You can explore the full exhibition on the Royal College of Music Museum's webpage. Join the conversation on Twitter @rcmlondon.