Royal College of Music launches major UK-wide virtual museum
Thursday 26 October 2017
The Royal College of Music is proud to bring together 5,000 years of musical heritage from 200 UK collections in a major new website documenting 20,000 historically significant musical instruments.
MINIM-UK is a virtual museum featuring information about the UK's most important musical objects, alongside sound recordings and photographs. From instruments owned by the royal family and composers such as Elgar and Chopin, to ancient Egyptian bone clappers in the form of human hands and an extremely rare narwhal-horn flute, the public will be able to freely explore these fascinating objects in a single virtual location for the first time.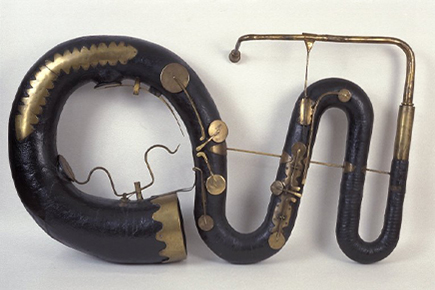 A contrabass serpent from the University of Edinburgh collection

The instruments, currently held in 200 separate collections across the UK, are collated at www.minim.ac.uk thanks to a major project led by the Royal College of Music, in partnership with the Horniman Museum and Gardens, Royal Academy of Music, University of Edinburgh, and Google Arts and Culture, with funding from the Higher Education Funding Council for England (HEFCE).
Many of the featured collections have not been easily accessible to the public before, having been hidden in local collections and remote locations, unseen in storage or not previously documented online. The MINIM-UK cataloguers travelled over 10,000 miles for 200 days to collect photographs, video and sound recordings and stories spanning from the Scottish Highlands to the South coast.
A Tibetan trumpet from the Horniman Museum & Gardens collection

MINIM-UK aims to promote visitors' numbers to small local museums across the UK and draw attention to little-known collections. It also dramatically increases the British music presence in international databases such as Europeana and MIMO – the largest worldwide resource on musical instruments funded by the EU in 2009.
Gabriele Rossi Rognoni, Curator of the Royal College of Music, comments, 'The instruments brought together for MINIM-UK are an important part of our national heritage. It is tremendously exciting to work with Google to enable so many people to connect with these beautiful and intriguing objects. We are delighted that thanks to the wonders of modern technology we have so many ways to allow people to explore these treasures.'