RCM pianists duet with Lang Lang on international stages
Wednesday 1 November 2017
World-renowned pianist Lang Lang recently invited two Royal College of Music pianists to duet with him in major international performances.
Mutong Shao joined Lang Lang at the 2017 China Central Television's Mid-Autumn Festival Gala Night to perform The Galloping Horse, a complex piece written by Chinese composer Ci Bulag. Mutong is in the fourth year of his BMus degree at the Royal College of Music, studying with Gordon Fergus-Thompson. Before arriving at the RCM he was the first pianist to graduate from Lang Lang Music World, Lang Lang's school for gifted pianists in Shenzhen.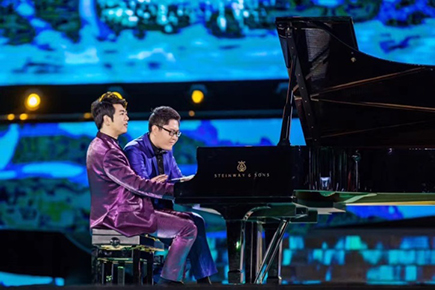 Mutong Shao performing with Lang Lang in China

Sixteen-year-old George Harliono, one of the RCM's youngest ever first year pianists, joined Lang Lang for two concerts in Munich. They performed several pieces including Leonard Bernstein's America. George embarked upon his BMus degree at the Royal College of Music in September 2017 having given his first solo recital aged 9. He recently performed with the Mariinsky Orchestra in Vladivostok, Russia under the baton of Valery Gergiev. George studies with Professor Vanessa Latarche at the RCM and is mentored by Vovka Ashkenazy and his father Vladimir.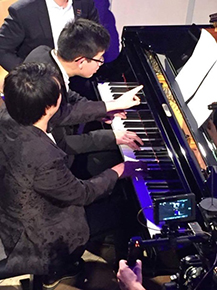 George Harliono performing with Lang Lang in Germany

Professor Vanessa Latarche, Head of Keyboard at the Royal College of Music comments, 'I am delighted that Mutong and George have been given the opportunity to perform with Lang Lang. Both of them consider him a great inspiration and have promising futures ahead as performers.'