On the road with the RCM Museum
Wednesday 16 May 2018
Mottisfont Abbey, Hampshire by Kate Jewell

The Royal College of Music Museum's Roadshow returns next week with a pop up exhibition and events at the National Trust's Mottisfont Abbey on Wednesday 23 and Thursday 24 May.
The specially curated exhibition will feature images of some of the most significant instruments in the RCM collection accompanied by fascinating stories, the result of new research by the Museum team. The exhibition centres around the idea that 'Music is Creation' and will be a sneak-peak of some of the highlights that will be on display in the RCM Museum's new home, currently being built as part of the More Music – Reimagining the Royal College of Music project, supported by the Heritage Lottery Fund (HLF).
Mottisfont Abbey was the childhood home of organologist and keyboard collector Raymond Russell (1922 – 1964), whose collection is now housed at the University of Edinburgh. A special talk given by RCM Museum Curator Gabriele Rossi Rognoni will explore the fascinating historic keyboard instruments in the RCM's collection, including the earliest known stringed keyboard instrument, the clavicytherium c 1480.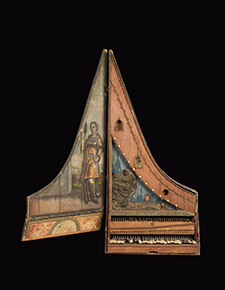 Clavicytherium, Anon, South German c 1480

The RCM Museum's visit to Mottisfont Abbey will also feature a concert of historical music performed on harpsichord and baroque violin by RCM musicians Abel Balazs and Ilaria Macedonio. The musicians will be volunteering at the pop-up exhibition and sharing their knowledge of the RCM's musical treasures with visitors.
The exhibition offers visitors the chance to experience the RCM's collection whilst the Museum building is closed for redevelopment. Lydia Cracknell, Museum Learning & Participation Officer at the Royal College of Music, says: 'Having previously taken our Roadshow to the Southbank Centre for a family trail, this exhibition at Mottisfont Abbey is the first in a series of exciting opportunities to preview the concept of the new RCM Museum with audiences. We can't wait to share our most significant objects and hear our visitors' thoughts!'
The RCM Museum's exhibition and events at Mottisfont Abbey are free of charge and will run as drop-in sessions. Please visit the National Trust website for more information.
The RCM Museum Roadshow will continue on tour across London and the South East until the end of 2019 and includes pop-up exhibitions, activities, concerts and more. For further information and enquiries around new partnerships, please contact Lydia Cracknell at museum@rcm.ac.uk.