RCMJD Quartet Performs for Royalty
Friday 9 December 2016
RCM Junior Department musicians have performed in the presence of HRH The Prince of Wales at a special ceremony at Sandringham Royal Estate.
The string quartet players Eugenie Dalgleish, Tess Jackson, Natasha Barton and Shimmy Osindero performed background music during the Medals Ceremony for Norfolk Constabulary, which took place on Monday 5 December to honour the long service of officers, staff and members of the Special Constabulary. The ensemble is tutored by JD teacher Leandro Silvera.
After the ceremony, the four young musicians and JD Performance Manager John Mitchell had the opportunity to meet HRH The Prince of Wales, President of the Royal College of Music.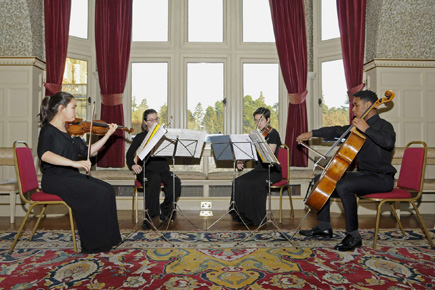 Images © Mark Amies